AstraZeneca's New Breast Cancer Drug Could Be An Absolute Game-Changer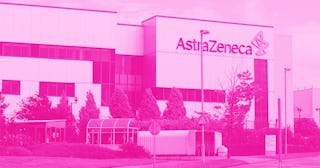 Scary Mommy and Christopher Furlong/Getty
AstraZeneca is no stranger to headlines. The British pharmaceutical company pioneered one of the COVID vaccines currently saving lives around the world. On September 19, it made a new set of headlines. At the 2021 European Society of Medical Oncology, AstraZeneca announced "groundbreaking" results in a trial of a new breast cancer drug.
In trials, the drug, Enhertu, reduced the risk of death or disease progression by a stunning 72 percent in patients with HER-2-positive metastatic breast cancer, compared to the current standard of treatment.
Susan Galbraith, executive vice president of Oncology R&D at AstraZeneca highlighted the drug's potential to save lives. At the conference, she said, "These unprecedented data represent a potential paradigm shift in the treatment of HER-2-positive metastatic breast cancer, and illustrate the potential for Enhertu to transform more patient lives in earlier treatment settings."
A Potential Game-Changer For A Vicious Breast Cancer
Breast cancer affects more women in the United States than any other cancer, aside from skin cancer. More than 250,000 new cases of invasive breast cancer are expected to be diagnosed in women in the U.S. Nearly 45,000 patients will die from the disease. In approximately one third of cases, the cancer will spread to other organs. Of those patients, about 72 percent will die within five years.
The presence of the HER-2 protein indicates that the cancer will be particularly aggressive. Tragically, about 20 percent of people diagnosed with breast cancer will be positive for this gene.
Considering those difficult statistics, a treatment that has the potential to save the majority of patients who take it is certainly exciting.
Enhertu Compared To The Current Standard Of Care
The current standard of care for HER-2-positive breast cancer is TDM1. Like Enhertu, it's an antibody-drug conjugate medication that's delivered intravenously. While it's effective for some patients, it overwhelmingly falls flat as compared to Enhertu for most patients.
AstraZeneca's trial compared Enhertu to TMD1 in a head-to-head comparison study, Dr. Sunil Verma, vice president and global clinical head of breast cancer research at AstraZeneca, told ABC News in an interview after the company's announcement.
500 patients in 15 countries participated in the trial. Half received TMD1 and half received Enhertu. After twelve months, 65 percent of patients treated with the current standard of care, TMD1, showed disease progression or death. At that same point, fewer than 25 percent of patients treated with Enhertu experienced disease progression or death. Moreover, progression-free survival, which is a measure of time a patient lives without tumor growth or spread, improved from 7.2 months to 25.1 months. To put those numbers into real time, that's less than a year to just over two years without progression.
Moreover, according to Verma, approximately 80 percent of patients treated with Enhertu experienced tumor shrinkage, and in 16 percent of cases, the tumors were no longer visible using imaging technology.
It's important to note that Enhertu is currently FDA approved but only for metastatic or inoperable HER-2 breast cancer patients who didn't respond to other treatments, including the standard of care. However, with results like the ones announced at the conference, it's clear why some experts believe Enhertu is the better choice for most HER-2 breast cancer patients.
"With the remarkable results of this study, ENHERTU might become the new standard of care treatment for patients with HER-2-positive metastatic breast cancer following standard chemotherapy," Dr. Verma told ABC News.
Side Effects Are Minimal
Unfortunately, most medications have accompanying side effects, particularly those used to treat cancers. Enhertu is no different, and there are risks to treatment, including an affect on heart, lungs, and white blood cell counts.
Fortunately, AstraZeneca reported no new safety concerns or grade 4 or 5 interstitial lung disease events during the trial. Likewise, experts don't expect side effects to pose a major concern for most patients.
In an interview with ABC News, Dr. Jame Abraham, chairman of the Department of Hematology and Oncology at Cleveland Clinic, who was not a part of the AstraZeneca study, confirmed as much. She said, "The side effects are minimal to none for a majority of the patients."
Of course, patients should always discuss risks versus benefits for their own personal treatment with their doctor.
A cancer diagnosis for yourself or your loved one is terrifying. A cancer diagnosis followed by a grim prognosis is even more terrifying. It's met with equal parts fear, uncertainty, rage, and often hope. Hope that a groundbreaking treatment will come along that will rearrange all the puzzle pieces, make what seems impossible possible. For HER-2 breast cancer patients, that groundbreaking treatment is here, and it's certainly a reason to hope.
Researchers at AstraZeneca hope this groundbreaking treatment will one day be available to other cancer patients. They're looking at whether Enhertu will be effective for other cancers, including stomach and lung cancers.
"We are hopeful that we can see some success when this medicine can latch onto other HER-2-positive cancers," Verma said.
As far as I'm concerned, any positive step toward defeating cancer is a step worth taking.
This article was originally published on