Mom's Viral Post Shows Rare Breast Cancer Symptom All Women Should Know About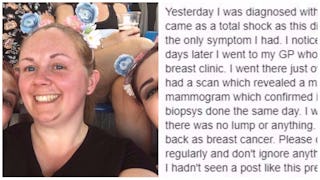 Image Via Facebook
She hopes to help spread awareness about rare breast cancer symptoms like hers
From the time we begin to even develop breasts, we're told to always be aware of any developing lumps or suspicious bumps. However, there are many signs of breast cancer that aren't your run-of-the-mill lump. Sherrie Rhodes knows this all too well, as she recently shared what led to her own breast cancer diagnosis in a now-viral Facebook post.
"Yesterday I was diagnosed with breast cancer. It came as a total shock as this dimpling (in the pic) is the only symptom I had," the mother of three wrote.
Lumps are certainly still considered the most common indicator of breast cancer, but women should be aware of other changes to their breasts and breast tissue, no matter how subtle. The American Cancer Society lists multiple signs and symptoms beyond lumps and hard masses:
Swelling of all or part of a breast (even if no distinct lump is felt)
Skin irritation or dimpling
Breast or nipple pain
Nipple retraction (turning inward)
Redness, scaliness, or thickening of the nipple or breast skin
Nipple discharge (other than breast milk)
The American Cancer Society estimates that about one in eight women will develop invasive breast cancer during their lifetime.While self-breast exams are no longer an official recommendation, it is suggested that all women stay cognizant of our breasts and note any changes to share with your doctor.
Rhodes says she noticed her own dimpling earlier this summer, and sought medical attention right away. She was diagnosed just this week. "I wasn't too worried as there was no lump or anything," she wrote. "Unfortunately it came back as breast cancer. Please check your breast regularly and don't ignore anything that is different."
Rhodes posted a photo to Facebook right away, and told us she wants to "help spread awareness." She also credits previous posts women have shared regarding rare breast cancer symptoms for her quick action.
"If I hadn't seen a post like this previously I wouldn't have known that this dimpling was a sign of cancer," she said. "Please share and raise awareness."
This article was originally published on