Mom Shares Photo Showing How Breastmilk Changes When Mom's Producing Antibodies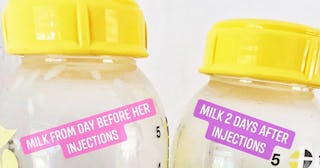 Jody Danielle Fisher via Facebook
A mom shared a photo of two bottles of pumped breast milk — and they definitely don't look the same
Breast milk is pretty much a miracle of the human body, with science proving it can help babies ward off illness, help moms prevent breast cancer, and even change in its makeup as babies get older to adapt to their ever-shifting nutritional needs. Now, a mom's post comparing the color of her breast milk before and after her baby received a round of vaccines has people in awe once again of the power of breastfeeding.
UK mom Jody Danielle Fisher took to Facebook with a photo that will make it hard to deny that breast milk is kind of magical. She writes, "Nancy had her 1 year injections on Tuesday afternoon, the 'normal' colour milk is from the day before she had them, the 'blue' colour milk is from today – 2 days after she had them."
You can definitely see a change.
Fisher doesn't think the difference in her milk's appearance is an accident. "It's blue from all the antibodies my body is producing as it thinks she's sick with what she was vaccinated against! When she feeds her saliva sends signals to my body to produce more milk with illness specific antibodies!" she writes.
She says the phenomenon is one of the reasons she's still breastfeeding her 13-month-old daughter. "Way to go boobies," she writes.
Breastfeeding site KellyMom notes that breast milk can definitely be different colors but that those changes typically reflect a mom's change in diet. However, it is correct that milk adapts and changes according to a baby's needs. "It does not always look the same because breastmilk changes it's composition throughout the feedings, as well as throughout the day. As baby grows, breastmilk continues to change to meet the needs for optimal growth, at each stage of baby's development . This means that mom's breastmilk at four months is perfectly suited to the needs of her four month old baby, and at six months, perfectly suited for her six month old," they explain.
Another mom posted a similar photo noting that her milk seemed to be responding to her daughter's flu diagnosis:
And again, this mom is right on the money with what her body is doing to help her little one.
"Sometimes when we are sick our body is burning extra calories as we're fighting off that illness, so it could very well increase the calories of mom's milk to make sure the baby has the energy to be doing the work of fighting off the virus," board certified lactation consultant Rachel Miller of Piedmont Medical Center says. "That definitely would change the appearance of the milk in a way where it would look more yellow."
Fisher notes that she hasn't changed her diet and that her milk "is only ever this colour when my daughter has been sick…it's never been like it when she's be well."
In the end, Fisher simply has faith that both vaccines and breastfeeding are the right thing to do for her child.
"This goes to show the vaccines are doing exactly what they are meant to do, and so is my daughters body and mine."
This article was originally published on