Olympics Organizers Will Allow Athletes To Bring Their Nursing Babies
by Kristina Johnson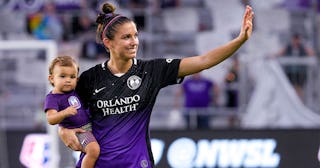 Andrew Bershaw/Icon Sportswire via Getty
Breastfeeding athletes will be allowed to bring their babies to the Tokyo Olympics after organizers faced backlash over strict policies
Working moms everywhere know that jobs aren't always the most accommodating when it comes to having kids. And when your job title just happens to be world-class athlete, and your workplace is the Olympics, and you're breastfeeding on top of that, things get even harder to manage. But when athlete mamas were told they'd have to leave their breastfeeding babies at home due to strict Covid-19 policies at the Olympics, they pushed back in a major way. Now organizers are reversing their stance.
Originally, athletes were told they were not allowed to bring any family members or friends with them to the rescheduled 2020 Tokyo Olympics. But facing an outcry — and perhaps even the possibility of athletes choosing to stay home rather than be separated from their babies — organizers finally decided to make an exception. "After careful consideration of the unique situation facing athletes with nursing children, we are pleased to confirm that, when necessary, nursing children will be able to accompany athletes to Japan," the Olympic Committee said.
Before the decision was announced, American marathon runner Aliphine Tuliamuk was among the athletes publicly lamenting the possibility of being separated from her 5-month-old baby girl, saying she felt torn. "I had been putting off thinking about Zoe not coming to Tokyo with me for a while now, but I had to start to, at team processing a week ago in Eugene, and I have cried a lot since," she shared. "I know that I will be leaving her for only 10 days, and she will be just fine, and that so many other moms have done the same, but I can't even imagine being away from her for half a day."
Canadian basketball player and breastfeeding mama Kim Gaucher also shared an emotional plea on Instagram. Holding baby girl Sophie, Gaucher explained that all she'd ever wanted was to represent her country and her team at the Olympics, but the strict rules had put her in an impossible situation.
"Right now, I'm being forced to decide between being a breastfeeding mom or an Olympic athlete," Gaucher said. "I can't have them both." Gaucher expected to be gone for at least 28 days, and shared that people had advised her to pump as much breast milk as she could before the Games got underway. Understandably, the athlete did not see that as a viable solution. Neither was pumping in Tokyo and shipping the milk back home to Canada. After exploring literally every option, she concluded that the only thing that would work was being allowed to bring her daughter.
Thankfully, organizers realized their error and amended the policy — but it makes you wonder why no one thought of it earlier, or why the appeals Gaucher said she'd spent weeks making weren't heard until now. As she said in her video appeal, "It's 2021 — let's make working moms normal."