'Barbie' Has Done It All And Now She Breastfeeds, Too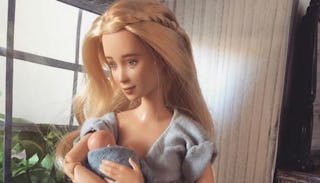 Image via Facebook/Betty Strachan
Mom makes breastfeeding dolls for kids to help stop the stigma
It's no secret that mothers today are plagued by breastfeeding stereotypes and stigmas, but a mom in Brisbane, Australia is trying to change that. Betty Strachan creates breastfeeding "Barbies" and sells them on Etsy to educate kids and help end the undue censure nursing moms often face.
"A woman's body is an incredible thing. It sustains and brings life over nine months, but it doesn't stop there," her shop listing reads. "The act of breastfeeding continues to sustain a child from birth into toddlerhood, sometimes beyond, and these breastfeeding dolls have been created to celebrate breastfeeding in an educational and comprehensive way for children."
She calls her breastfeeding mother doll the "Mamas Worldwide Barbie" and told the Huffington Post the dolls sold quickly after posting them. It's not hard to see why. The dolls look super natural, and so real. Stratchan strips the factory "makeup" off of the figurines she already has and repaints them. The stripped down and softer look is something many mothers of new babies can relate to. When taking care of a newborn there's little time to get "all dolled up" (pun totally intended).
Her inspiration comes from real life mothers.
"Everyone in my mother's group thought it was great, so I posted her on my Instagram page," the mom told the Huffington Post. "After that, I received a few requests to make more, and I realized that it was really something that should be available – because, like most things that society deems unacceptable, educating children is the way to erase the stigma behind it."
She not only makes breastfeeding dolls, but pregnant ones too.
She also makes dolls that depict same sex couples and adoption. She wrote on her Facebook page, "It's been a long time coming but same sex adoption has finally been legalized in Queensland! It's another step in the right direction to equality."
My personal favorite is the one with the purple hair, pixie cut, and freckles.
And tattoos. Pretty much obsessed with that badass haircut.
After all, we're all pretty diverse and it's nice to see that reflected. Not a bad sentiment to pass off to our kids.
It's unclear how much the dolls sell for as she appears to be temporarily wiped out of stock. According to her Facebook page, she's a little busy with orders right now (especially given a ton of media attention), but asks customers to stay tuned.
"I've received so many messages of support and requests for dolls and I would LOVE to make one for you, however, I'm swamped with orders and need to get on top of those before I can commit to making more. Please be patient with me."
Well, you're in good company Betty. Moms who want your dolls probably know a whole lot about having patience. It kind of goes with the kid territory. We're ready when you are, but in the meantime, BRB – getting my old dollhouse ready.
This article was originally published on