Two-Thirds Of Moms Who Filed Breastfeeding Discrimination Cases Lost Their Jobs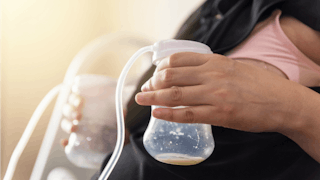 blanscape / Getty Images
It can be difficult enough going back to work as a breastfeeding/pumping mom. You have to deal with the heartbreak of leaving your child in someone else's care. You have to figure out how to get on a good pumping schedule, how to "let down" consistently for the pump, and how to keep your baby interested in breastfeeding despite the separation.
It's a tough balancing act that so many awesome, badass moms pull off.
Unfortunately, many moms end up running into the most trouble from their employers, who are not always fully on board with supporting a mom's breastfeeding goals.
Federal law protects breastfeeding moms – requiring all workplaces to give moms adequate pumping time and clean (non-bathroom!) spaces to pump in.Yet many workplaces do not comply with these federal regulations, leading moms to sabotage their breastfeeding goals, end up with painful breast infections, or quit their jobs.
Some moms have even filed lawsuits against their employers when it was clear that their breastfeeding right were being violated. These moms are heroes, and in some cases, their valiant efforts have made their employers "see the light" and amend their breastfeeding policies.
But the unfortunate and absolutely infuriating truth is that in the majority of cases where moms have filed breastfeeding discrimination lawsuits, they have ended up losing their jobs.
According to a new study conducted by the Nursing Mothers Law Project through the Center for WorkLife Law at the University of California, Hastings College of Law, a whole two-thirds of mothers who accused their employers of breastfeeding discrimination over the past decade lost their jobs in the end.
"We're experts in the field, and we were shocked by what we found," Liz Morris, a co-author of the report, told Fortune.
It truly is shocking when you think about it. And so upsetting, because you can only imagine that a mother who decides to go ahead with a complaint of this kind is really putting herself out there — fighting not only for herself, but for her fellow breastfeeding moms everywhere.
According to the study, the kinds of complaints that mothers filed against their employees included denying requests for pumping breaks; firing employees for requesting such breaks; not providing private places to pump; and sexual harassment of employees, including unwelcome comments about their breasts.
This is absolutely disgusting and disturbing. And remember: the things these women were complaining about are against the law. Their employees were flat out violating the law – along with these mothers' dignity. Not okay.
The study found that not only did two-thirds of the women who filed lawsuits against these companies get fired or become forced to resign, but a whopping three-quarters of them experienced some other form of economic hardship, such as being forced to work reduced hours or losing pay during their pumping breaks.
If your blood isn't boiling enough already, it turns out the majority of these cases happened to women who worked in male-dominated industries. While only 16% of women work in a male-dominated industry, 43% of the breastfeeding discrimination allegations came from women who worked in male dominated industries.
Not surprising. And yet totally rage-inducing.
The authors of the study compare their findings to the rampant sexual harassment that so many women face in the workplace, explaining how dominant patriarchal structures put so many women's – and mothers – careers on the line.
"The thing breastfeeding discrimination has in common with sexual harassment and pay inequity is that it jeopardizes women's economic security," says Morris. "Women are literally losing their jobs over feeding their babies, and job loss can have harsh economic consequences for years to come in the same way sexual harassment and unequal pay can have harsh economic consequences for women."
So what's the answer here? The study's authors say that we need to find better ways to enforce the laws that are already in place to protect breastfeeding moms – and pass new legislation that makes these laws more universal, with absolutely no exceptions.
We also have to educate employers about the fact that supporting breastfeeding moms is actually advantageous for businesses because it leads to more employee retention, less missed work because of illness, and lower overall health care costs for moms and their families.
"There's a strong business case for accommodating breastfeeding," Morris said. "There is a return on investment for companies."
That's for sure. Oh, and don't forget that breastfeeding moms get shit done, and any company would be more than lucky to have a fierce, strong, multitasking mama at the helm.
So let's all do our damndest to support breastfeeding moms and guarantee them the rights they deserve. Lawmakers and employers: we need to step up big time here. Enough already. It's 2019 and breastfeeding moms deserve to be treated with respect and dignity. Period.
This article was originally published on