Dance Moms Shame Breastfeeding Mom, Get Her Kicked Out Of Studio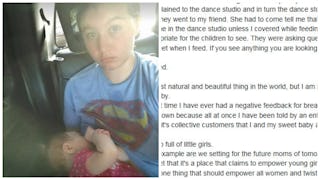 Image via Facebook/Breastfeeding Mama Talk
When are we going to get over a mother breastfeeding her child in public?
It seems complete strangers still feel no shame asking mothers who are feeding their children to cover themselves so they can feel comfortable in public. What's almost as concerning as the stories themselves is the frequency with which breastfeeding mothers are still being made to feel shame about how they feed their child.
The Facebook page Breastfeeding Mama Talk posted a story last week of a woman who was told she was no longer welcome in a dance studio where she was watching her friend's daughter dance, unless she was willing to cover herself while she fed her baby.
"This is me sitting in my truck crying as I feed my three month old," the post began. "Why am I in my truck instead of in an air conditioned building watching my friends children dance? It's because I had the gall to feed my baby without a cover."
Apparently some of the mothers in the studio complained about her breastfeeding and she was asked to leave "unless I covered while feeding because it was inappropriate for the children to see. They were asking questions."
When did it become a bad thing for kids to ask questions? Instead of turning it into an open discussion about how some mothers feed their children, a person was shamed into leaving instead.
The woman went on to say, "I'm very discreet when I feed. If you see anything you are looking too close. I am so livid. I feel ostracized. I feel alone."
This is precisely why Breastfeeding Mama Talk started her page. "I share their stories because it gives them their voice back, something they may have otherwise not had. It shows them that they aren't alone even though they may have been alone in that moment. It shows them that they have moms , dads, people all over the world who support them and encourage them and will fight for them and with them," she wrote in response to the post.
What makes the story even more concerning is she was in a dance studio filled with little girls.
"What kind of example are we setting for the future moms of tomorrow? I'm just more upset that it's a place that claims to empower young girls when they take the one thing that should empower all women and twist it into something considered shameful enough that it has to be covered," she wrote. "I'm feeding my baby. That's something amazing that all women should be proud of!"
This mom plans to educate the dance studio so future mothers won't go through the same thing she went through. "I plan on talking to the owner with the Louisiana State laws in hand."