Cop Kicks Breastfeeding Mother Out Of Public Pool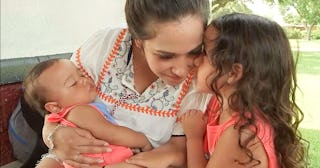 CBS 17/Youtube
Hearing how this nursing mother was treated at a public pool will make your blood boil
If you're currently having a low-blood-pressure kind of day, you might want to take deep breaths before reading this story. A Texas mother says she was removed from a public pool for breastfeeding her 10-month-old son, even though it's illegal to do that to a nursing mother. But that's not all — the responding officer was caught on body camera saying awful and lewd things about the mom to the pool manager.
Misty Daugereaux was at the Nessler Park Family Aquatic Center in Texas City with her two young sons and nephew when the youngest, a 10-month-old baby, grew hungry. Daugereaux did what any mother would do with a hungry baby — she fed him. Which was apparently a problem, because she was breastfeeding. Sigh.
Daugereaux says a lifeguard approached her and told her she couldn't "do that" there because it was a public pool and against their policy. Which is incredibly ignorant and discriminatory, since nursing mothers have the legal right to breastfeed anywhere and everywhere in accordance with federal law. In all 50 states.
"She said you need to cover up or leave," Daugereaux tells ABC13 News. "She gave me the ultimatum. And I said, 'Well, you show me in your policy where I need to cover up and I'll leave.' And, she was telling me that it was not right, that I needed to cover up. It was their policy. And I said, 'Well, you can go call whoever you need to call, but I'm not leaving for breastfeeding my son.'"
Daugereaux documented her feelings about the "humiliating" situation on Facebook:
The pool manager decided to call the Texas City police. They eventually pressured Daugereaux to leave the pool with her kids. Earlier this week, the Texas City Police Department released footage from the responding officer's body camera, which showed the entire exchange and then some.
The officer walks over to Daugereaux, who is sitting by the pool with her children, and asks her, "What happened?"
"I was feeding my baby," Daugereaux says.
"Did you cuss that lifeguard?" the officer asks.
"Absolutely not," Daugereaux says. "I have a right to feed my baby. I don't stand for a lot, but I will stand for that."
When pressed further by the not-entirely-convinced officer, she continues: "I'm conscious enough to know I don't want every man in the pool looking at my boobs. But when you have a 10-month-old who doesn't take a bottle, I'm going to feed him."
Toward the end of the video, after Daugereaux was asked to leave by the cop and the manager, he continues discussing the situation with the manager. And please, be warned — you will see red after hearing what he says next.
"I appreciate you coming out here," the manager says. "You know, we deal with a lot here."
"I know you got to feed your kids but go sit under a blanket or something," the officer says.
"I thought you're supposed to cover up," the manager says. "I know people breastfeed and stuff but-"
"That's all fine and dandy, but just sit in a chair and cover-up," the officer says. "Don't sit there with your titties out."
Yeah. Deep breaths.
The Texas City Police Department also released their own statement after outrage began circulating related to this exact incident.
"We apologize to Misty Daugereaux as it is clear she was offended by how she was treated at out City Facility," the statement reads. "City policies and procedures will be reviewed and revised as deemed necessary. Any deficiencies regarding our employee's actions will be addressed with further training."
Further training? On the law, hopefully, which is 100% on the side of the nursing mom. This entire mess (and many others like it that occur far too frequently) could have so easily been avoided if people in charge were made aware of the legal rights all nursing mothers have.
This article was originally published on