Patagonia Accommodates Employee's Breastfeeding Schedule -- 'Huge ROI'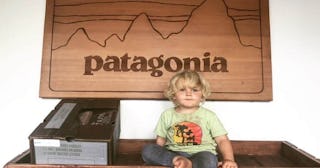 Holly Morrissette
The retail giant allows parents to work and spend time with their kids
It's never easy to return to work after maternity leave. There are a million and one worries about leaving your child and if you are breastfeeding, it makes the entire process even more complex. Will there be a place to pump? Will I have the time? Am I going to be able to deal with the side-eye from coworkers?
For one mom returning to work with both onsite childcare and a kickass boss, those troubles became obsolete.
New mom and recruiter for Patagonia, Holly Morrissette, posted on LinkedIn that she was nursing her baby during a morning meeting when her VP turned to her and said, "There is no way to measure the ROI on that. But I know it's huge." She said it got her thinking about how lucky she was to be able to return to work and still be available to her child, saying she has "immense gratitude that I have for on-site childcare at Patagonia" but with that gratitude, she felt a responsibility to share her story.
The mother-of-two said she wanted to create a "call to action" to "tout the extraordinary benefits that come along with not asking employees to make the gut wrenching decision to either leave their jobs or leave their babies. TO HAVE TO LEAVE THEIR JOBS OR LEAVE THEIR BABIES," she said again in all caps, because her sentence deserves it.
She went on to say she hopes in her sharing what the leaders at Patagonia are doing, that it gets the "wheels turning to think differently about how to truly support working families. That with a bit of creativity, and a whole lot of guts, companies can create a workplace where mothers aren't hiding in broom closets pumping milk, but rather visiting their babies for large doses of love and serotonin before returning to their work and kicking ass."
Her words (and the amazing example her employer is setting) goes to show the power of supporting working moms versus making them feel guilty, shameful, or so stressed out that they feel like they need to decide between their careers and family.
Morrissette tells Scary Mommy the stories people have shared with her since she posted has been "shocking (and wonderful!)," and it's a "testament to how universal the struggle of a working mother can be."
"It's no wonder that Patagonia has 100% retention of moms," she continued. "Keeping them close to their babies keeps them engaged. And engaged mothers (and fathers!) get stuff done." That retention rate says it all. "My wish for this post was that it would make just one business (big or small) consider how to make something like this work," Morrissette said. "That someday a model like Patagonia's isn't the exception, but the norm."
Amen to that.
This article was originally published on