5 Powerful Breastfeeding Stories For World Breastfeeding Week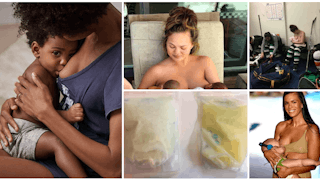 @adaoraakubilo / Instagram (left image) / @chrissyteigen/ Instagram (top middle image) / Paige Peterson/FB (bottom middle image) / Milky Way Lactation Services/FB (top right image) / Frazer Harrison/Getty Images For Sports Illustrated (bottom right image)
World Breastfeeding Week — which wraps up today — is all about celebrating each woman's breastfeeding journey, however that looks. Yep, whether you breastfed for two weeks, or two years, we are here to celebrate you. If you breastfeed with a full supply, a partial supply, or exclusively pumped, you are a rockstar and we salute you. And guess what? Even if you never breastfeed for whatever reason, you can still partake, because being a badass mom is all about freedom—the freedom to use your boobs for feeding your baby … or not, if that's the best decision for you.
Can I get a hell yeah?
I remember when I was struggling with breastfeeding, one of the thing that kept me going was hearing inspirational and relatable stories from other breastfeeding moms. Moms who overcame breastfeeding struggles. Moms who juggled breastfeeding with work and a million other responsibilities. Moms who found communities to support them. Moms who told breastfeeding critics to eff off.
2018 has been full of those kind of stories — from ordinary moms who inspired their communities, or just a fellow mom at the grocery store to celebrities and public figures who used their platforms to celebrate breastfeeding, struggles and all.
Here are our top 5 most powerful breastfeeding stories of this year – at least so far.
1. The #LoveByGapBody Gap Ad
The Gap did their part to normalize breastfeeding this year – and in such a simple and stunning way. As part of the ad campaign for their new apparel line called Love by GapBody, the company shared a gorgeous pic of the model Adaora Akubilo. The spread included Akubilo's own 20-month old son, Arinze, who just happened to want to nurse during the shoot. The photo team went for it, and even included a sweet pic of Akubilo nursing her son, right there on set.
"I'm so comfortable just nursing my son anywhere," Akubilo said. "If my son needs to nurse, I'm going to nurse him."
Go mama! And kudos to The Gap, for proving that nursing is a normal part of life, and a baby needs to eat when a baby needs to eat. That's all there is to it, right?
2. Chrissy Teigen Takes On The Breastfeeding Trolls
We all know and love Chrissy Teigen because she speaks the truth and takes no shit. Her skills were definitely in full force last month when she got shamed by a pack of trolls after she posted a pic of herself breastfeeding. The pic was nothing out of the ordinary: just a cute pic of herself nursing her son Miles while her daughter Luna looked on, doll in hand – asking if Teigen would go ahead and nurse the doll too (ADORABLE!).
But the trolls were having none of this. "Menstruating, childbirth and sex are natural, too, but that doesn't mean I want to see pics of it and/or celebrities like @chrissyteigen taking a bath or nursing," wrote one lovely follower.
Teigen's response was nothing short of amazeballs, though: "I don't care to see grainy fireworks, coachella selfies or infinity pool pics but i let people live," she wrote, urging the woman to "calm [her] tits and scroll on by."
Perfection. You tell it, Chrissy. We couldn't adore you more.
3. Model Breastfeeds On The Runway Like It's NBD
Life doesn't slow down just because your baby needs to nurse. And we moms are known for our off-the-charts multi-tasking skills. But how many of us can say we've nursed our baby on the runway as we modeled the latest swimsuit styles?
Enter model Mara Martin, who was heaped with praise as she walked the runway at the Sports Illustrated Swim Search rocking a gold bikini – and expertly nursing her five-month-old daughter. Totally nonchalant, like it was no big deal (which is isn't – because breastfeeding is normal). You go, girl. LOVE IT.
https://www.instagram.com/p/BlRqGryH_Mi/
4. Multi-tasking Hockey Player Mama Shares Pic of Herself Breastfeeding Mid-Game
It's not just models and famous celebs who balance work and breastfeeding. Meet Serah Small, a 24-year-old teacher and hockey player from Grande Prairie, Alberta. Small, who plays for the Grovedale Vipers, shared a photo of herself nursing her eight-week-old daughter between game periods. And the pic – so real, raw, and honest – quickly went viral.
Small says that began to feel her milk come in during the game – and instead of covering up or just pumping – she decided to just go for it, and nurse her daughter right then and there.
"Our bodies are amazing and this weekend was the first time I truly appreciated mine," Small wrote. "You CAN continue doing the things you love. You CAN do them while breastfeeding. You don't have to pick one or the other. Babies can breastfeed anytime, anywhere."
Amen to that. Thank you, Serah Small for sharing your truth, and being the kick-ass goddess that you are.
5. Moms Pic Shows The Miraculous Powers of Breastmilk
We've all heard about the amazing healing powers of breastmilk – how it's full of antibodies, anti-viral agents, and all kinds of other good stuff. But it's something else entirely when we can see breastmilk in action, right before our very eyes.
Back in February (you know, during the height of cold and flu season), mom Paige Peterson took to Facebook to post two photos of her pumped breast milk. One showed her milk during normal times, and the other showed her milk during the days that her four-month-old daughter, Raina, had been sick with the flu.
Although there is no exact consensus on what might have caused the color difference, the results are pretty incredible, with the "normal milk" having light yellow/white hue, while the breastmilk pumped during her daughter's illness taking on a remarkably richer yellow color.
"Sometimes when we are sick our body is burning extra calories as we're fighting off that illness, so it could very well increase the calories of mom's milk to make sure the baby has the energy to be doing the work of fighting off the virus," lactation consultant Rachel Miller of Piedmont Medical Center tells 13wmaz News. "That definitely would change the appearance of the milk in a way where it would look more yellow."
Whatever the case is, we moms know that our bodies are nothing short of amazing, amiright?
So three cheers for all the breastfeeding mamas out there, taking no shit, multi-tasking their butts off, and loving their kids with all their hearts (and boobs!). Breastfeeding is not always easy, but those of us who do it know that it is so worth it. Here's to the moms who have pushed through the struggles and have kept on proudly nursing. And love and strength to the moms still struggling through. You've got this, and we've got your back. Nurse on!