Brendan Fraser Explains His 'Disappearance' With His Own #MeToo Story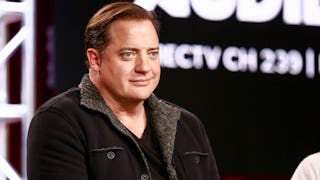 Image via Rich Fury/Getty Images for DIRECTV
Fraser shared his own #MeToo story in a recent interview
The recent #MeToo movement has motivated so many to tell their stories of being sexually harassed or assaulted. The brave survivors include not just women, but men, like Terry Crews and now, Brendan Fraser, who told his story of a powerful Hollywood figure violating him at an event in 2003.
"What Ever Happened To Brendan Fraser?" is the question answered in a GQ essay based on several interviews with the actor. The story it tells is actually a pretty sad one, with the actor discussing the decline of his career. That decline, in part, had to do with an experience of sexual harassment Fraser alleges happened at the hands of former Hollywood Foreign Press Association president Philip Berk.
Fraser says back in 2003, he was at a luncheon at the Beverly Hills Hotel held by the HFPA, which is the organization that puts on the Golden Globes. He was on his way out of the hotel when Berk stopped him to shake his hand. Instead, Fraser says Berk assaulted him. "His left hand reaches around, grabs my ass cheek, and one of his fingers touches me in the taint. And he starts moving it around."
In his memoir, Berk recalls the encounter and admits to pinching his butt "in jest," but that's not how Fraser says it went down.
After removing Berk's hand, Fraser ran out of the room past a police officer who he didn't feel he could tell about what happened to him. "I felt ill. I felt like a little kid. I felt like there was a ball in my throat. I thought I was going to cry," he said. He went home and told then wife Afton what happened. "I felt like someone had thrown invisible paint on me."
In an email, Berk, who is still a member of the HFPA, says "Mr. Fraser's version is a total fabrication."
In the aftermath, Fraser grew depressed. "I was blaming myself and I was miserable—because I was saying, 'This is nothing; this guy reached around and he copped a feel.' That summer wore on—and I can't remember what I went on to work on next."
As far as Fraser falling off the Hollywood map shortly after, he says the incident "made me retreat. It made me feel reclusive."
"I don't know if this curried disfavor with the group, with the HFPA. But the silence was deafening," he explains.
For his part, Berk says, "His career declined through no fault of ours."
Fraser's brave telling of his story is definitely striking a chord.
The #MeToo movement is partly what motivated Fraser to finally speak out about what happened to him all those years ago. "I know Rose [McGowan], I know Ashley [Judd], I know Mira [Sorvino]—I've worked with them. I call them friends in my mind. I haven't spoken to them in years, but they're my friends. I watched this wonderful movement, these people with the courage to say what I didn't have the courage to say."
In concluding his story, Fraser says, "Am I still frightened? Absolutely. Do I feel like I need to say something? Absolutely. Have I wanted to many, many times? Absolutely. Have I stopped myself? Absolutely."
"And maybe I am over-reacting in terms of what the instance was. I just know what my truth is. And it's what I just spoke to you."