Teen Shot At For Stopping To Ask Neighbor For Directions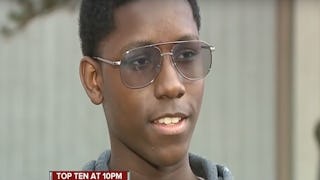 Image via YouTube/ WXYZ-TV Detroit | Channel 7
The 14-year-old was simply trying to ask for directions to get to school
A 14-year-old Michigan boy woke up late for school this week and missed his bus. He decided to try and walk his bus route to school, but soon realized he was lost and needed help with directions. That's when he walked up to a neighbors house for help, and got shot at instead.
Brennan Walker from Rochester Hills, Michigan, was walking to school Thursday morning and didn't have his phone to call for help because his mom had taken his phone away (look, we all do it). He thought asking one of his neighbors would be a good idea instead. Unfortunately, he couldn't have been more wrong.
"I got to the house, and I knocked on the lady's door," Walker told Fox 2 Detroit. "Then she started yelling at me and she was like, 'Why are you trying to break into my house?' I was trying to explain to her that I was trying to get directions to Rochester High. And she kept yelling at me. Then the guy came downstairs, and he grabbed the gun, I saw it and started to run. And that's when I heard the gunshot," he said.
"I'm kind of happy that, like, I didn't become a statistic."
Retired Detroit firefighter Jeffrey Zeigler, who shot at Walker with a 12 gauge shotgun, thankfully missed. The frightened teen ran and hid until authorities arrived, who promptly took Zeigler into custody. But honestly, what the fuck is happening? In what world is it okay that a teenager — a child — feels relief at not being a "statistic?"
Walker's mom, Lisa Wright, was at work when she found out what had happened. Her husband is deployed in Syria and sadly, she thought the call may be about him.
Investigators informed Wright that the Zeigler's had Ring doorbell installed which, thankfully, captured the entire encounter on video. But Brennan and his mom were able to watch what transpired, which only confirmed what she'd be thinking happened all along.
"After watching the video and hearing the wife say 'Why did "these people" choose my house?' I knew it was racially motivated," she said in the video. "I don't know what other 'these people' she could be talking about."
Zeigler is being held in jail on bail and is being charged with assault with intent to murder and a felony firearm charge. If convicted, could face life in prison.
"We should not have to live in a society where we have to fend for ourselves," Wright told Fox 2. "If I have a question, I should be able to turn to my village and knock on a door and ask a question. I shouldn't be fearful of a child, let alone a skin tone," she adds. "This is a decent neighborhood. If anything — why would I knock on your door to rob you?"
This article was originally published on