Crowds Took To The Streets To Demand Justice For Breonna Taylor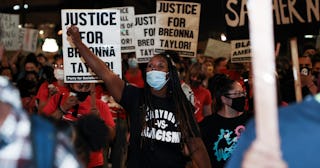 Michael Ciaglo/Getty Images
A Kentucky grand jury decided Breonna Taylor's killers will face no charges related to her death
It's been 195 days since Breonna Taylor was killed — shot eight times by police officers who broke into her Louisville, Kentucky apartment and murdered her. Now, a Kentucky grand jury has dealt yet another blow to Breonna's memory, her family and friends, and all Black people in this country who are begging to be protected from systematic murder by the police: Only one of the officers was charged, and the charges he faces have nothing to do with her death.
Former officer Brett Hankison was charged with wanton endangerment, because the grand jury decided his crime was allowing stray bullets to fly into Breonna Taylor's neighbors' apartments, where they could have hurt an innocent person. Breonna was innocent, but killing her was not a crime, the grand jury said. Officers Jonathan Mattingly and Myles Cosgrove face no charges.
After the grand jury's decision was announced, protesters once again took to the streets in cities all across the country. People on social media shared photos and videos from marches in their cities, where people turned out en masse to demand justice for Breonna Taylor — and so many other Black people who have been victims to systemic racism in equally traumatic ways.
Police in cities like Portland, Seattle, and Atlanta declared the marches were riots, and deployed tear gas against protesters.
New York and Chicago also had large-scale protests.
But nowhere were protests more intense than in Breonna Taylor's home city of Louisville.
There, a curfew was declared beginning at 9 p.m., but it didn't stop protesters from continuing to gather in large numbers.
This has been a particularly brutal year for high-profile killings of Black people, and Black Lives Matter protests have been a steady presence across the nation for months now. It shouldn't be too much to ask — that police stop killing Black people, and are held accountable for the murders they have committed and continue to commit. Yet the Black Lives Matter movement has been politicized and used for fear mongering by Donald Trump, who says the protests are violent riots that are destroying cities. In reality, the vast majority of them are peaceful. And even when they're not, property damage is not the same as human lives.
It's already far too late for many Black Americans and their families, friends, and loved ones. They deserve justice, and until there is justice, there cannot be peace.