Cop Involved In Breonna Taylor's Killing Sues Her Boyfriend For Causing 'Distress'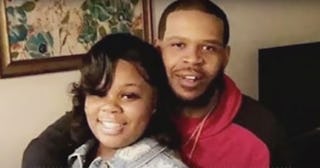 ABC News/Youtube
Jonathan Mattingly claims he's suffering "severe trauma, mental anguish and emotional distress" after killing Breonna Taylor
One of the officers involved in the killing of Breonna Taylor is filing a lawsuit against Taylor's boyfriend alleging assault, battery, and emotional distress stemming from the night of the incident. Louisville police Sgt. Jonathan Mattingly, one of the three officers who shot Taylor to death in her own apartment based on an inaccurate warrant and, likely, blatant racism.
Mattingly was shot in the leg during the March 13 raid at Taylor's home, and claims her boyfriend, Kenneth Walker, who was present in her apartment at the time, says Walker's conduct was "outrageous, intolerable and offends all accepted standards of decency and morality" when he fired his gun after the officers broke down Taylor's door and forcibly entered her apartment in a "no-knock" search.
"Walker did intentionally shoot Mattingly or acted recklessly in firing his pistol in the direction of the Police Officers who were serving a search warrant," the suit states.
To recap: Louisville police broke into this apartment, shot Walker's girlfriend to death right in front of him, and now the surviving victim of a brutal killing is being sued for causing distress.
Mattingly and his two colleagues, Myles Cosgrove and Brett Hankison, entered Taylor's apartment late at night, searching for evidence in a narcotics investigation. Her address was listed on the warrant but the target of the investigation was an ex-boyfriend who actually lived at a different location.
Walker, who is a licensed gun-owner, has never denied firing his gun. He says he grabbed his firearm and ultimately fired it because he believed someone was trying to break into the apartment, since there had been no knocking.
Mattingly's lawsuit is a counterclaim to a civil complaint Walker filed in September against the Louisville police department and the city. Walker was initially charged with attempted murder and assault, but the charges were later dropped.
While discussing the events surrounding Taylor's death during an interview with CBS, Walker said that he and Taylor heard a "loud bang at the door" and that no one responded when they called out several times.
"It was dead silent. I'm a million percent sure that nobody identified themselves," he said. "If it was the police at the door and they just said 'we're the police,' me or Breonna didn't have a reason at all not to open the door and see what they wanted."
According to Walker, the door came off its hinges, which scared him, so he grabbed his gun and fired, assuming an intruder was trying to break into the apartment. Documents from Attorney General Daniel Cameron's office report that Walker's bullet struck Mattingly, and that officers returned fire with 32 shots. Six of those bullets struck Breonna Taylor and killed her.
Mattingly is seeking a jury trial, damages, and reimbursement for legal and medical fees. He and fellow officer Cosgrove were placed on administrative leave following the shooting at Taylor's apartment; the third officer, Brett Hankison, was fired in June.
A grand jury declined to indict the officers over their actions, which directly resulted in the killing of an innocent human being, and instead decided to indict Hankison alone on charges of wanton endangerment for the gunshots that went into a neighboring apartment. To clarify: the only charges that stemmed from police firing 32 bullets into the home of an innocent woman and six bullets into her body, murdering her in cold blood, are endangerment charges for bullets that struck a neighboring apartment.
Breonna Taylor's mother, Tamika Palmer, filed a wrongful death suit against the department and the city, alleging that Walker fired a warning shot as the then-unknown persons broke through the front door with a battering ram and that officers responded by firing into the apartment.
"I never thought it was the police," Walker told CBS. "Because why would the police be coming here?"