Brett Kavanaugh's Yale Fraternity Is Notorious For Mistreating Women
by Christina Marfice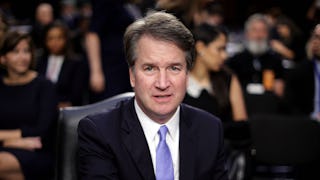 Image via Chip Somodevilla/Getty Images
Brett Kanavaugh's fraternity was banned from Yale's campus after years of sexual harassment
Decades before Christine Blasey Ford came forward, Brett Kavanaugh joined a Yale fraternity that was described by the student newspaper as "notorious for disrespecting women." In a lengthy article, Kavanugh's former classmates detail years of bad behavior by the frat, and also allege Kavanaugh belonged to a secret campus society whose members tried to sleep with as many women as possible. There's no mention of specific behavior by Kavanaugh, but the frat's behavior is absolutely abhorrent, and anyone who's belonged to a Greek organization knows the likelihood that Kavanaugh did participate in his house's garbage culture sit right at about 99.9 percent.
In a 1985 photo republished in the Yale Daily News this week, Delta Kappa Epsilon pledges wave a flag woven out of women's panties and bras during a march on campus. Kavanaugh is not pictured, but he was a member of the fraternity that year. Steve Gallo '88, a member of DKE's pledge class at the time, told the paper the flag was "just somebody's stupid idea" and that all the underwear used to make it was "obtained consensually."
But on a Facebook page for women alumni of Yale, women told a different story. According to Raw Story, Jennifer Lew, class of '87, alleged DKE members raided and ransacked women's rooms while they were in class.
In the #MeToo era, Kavanaugh's fraternity is finally being held accountable for its years of sexual harassment. In 2011, DKE was banned from Yale for five years after video circulated of members standing outside the campus women's center chanting, "No means yes, yes means anal." Yes, that actually happened.
And after their ban was lifted, DKE members went right back to their old tricks. This past spring, a campus investigation was opened against them after more than half a dozen members, including their president, were accused of sexual assault. Just to reiterate, this happened just two years after they were allowed to return to campus after being banned for sexual harassment.
As for Kavanaugh's own behavior, the Yale Daily News alleges he belonged to an all-male secret society called "Truth and Courage," but referred to on campus as "Tit and Clit." The society no longer exists, but in its "heyday" in the '80s, membership was apparently based on how many women the students could sleep with.
All of this, in addition to Blasey Ford's accusations, paints a picture of Kavanaugh who has lived his entire life blatantly disrespecting women, their boundaries and their autonomy. As more and more news like this gets out, we can only hope it will keep him from a seat on the Supreme Court, for all American women's sake.