Brett Kavanaugh Won't Be Returning To Teach At Harvard This Winter
by Christina Marfice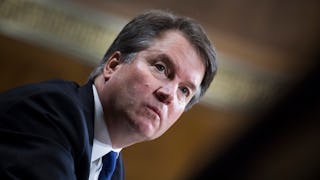 Image via Tom Williams-Pool/Getty Images
Brett Kavanaugh isn't going back to his professor job at Harvard Law
Whether it's because he thinks he has this Supreme Court thing in the bag, or due to mounting protests from the student body, Brett Kavanaugh won't be returning to his professorial post at Harvard Law School this winter. An email sent out to the student body on Monday announced the news.
Kavanaugh "can no longer commit to teaching his course in January Term 2019," according to the email, adding that his course, "The Supreme Court Since 2005," will no longer be offered at the school. Kavanaugh has been a professor there since 2008.
This news comes as Kavanaugh finally faces an FBI investigation into claims that he sexually assaulted multiple women throughout his life, including Dr. Christine Blasey Ford, who emotionally testified at Kavanaugh's Supreme Court confirmation hearings last week. The Senate vote on Kavanaugh's confirmation was delayed one week to allow a "limited investigation" into the judge's past and the claims he has mistreated at least three women who have come forward.
What's not known is why Kavanaugh isn't returning to his job at Harvard Law. The White House didn't respond to comment from the Harvard Crimson on Tuesday, and nothing in the email sent out to students indicated a reason for Kavanaugh quitting.
It's possible he thinks his confirmation will go through, and he'll be too busy with his new Supreme Court post to continue teaching. Which, ugh.
But also possible is that he's too scared to go back to Harvard, where students have been mounting a growing protest against his Supreme Court nomination. Last week, nearly a thousand Harvard Law students and undergraduates signed a petition asking that Kavanaugh be fired and banned from teaching at the school going forward. And students have been putting pressure on the school for weeks to launch its own investigation into the allegation against Kavanaugh.
Students are also actively working to prevent his confirmation to the Supreme Court.
Meanwhile, Kavanaugh's professor profile has completely disappeared from Harvard Law's website.
No matter how the FBI investigation and the Senate vote go, at least he won't be allowed back at Harvard. Now we can only hope he's also barred from the Supreme Court.