Brett Kavanaugh Turns His Back On Father Who Lost Daughter In Parkland Shooting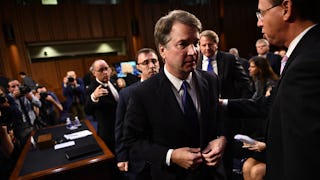 Image via BRENDAN SMIALOWSKI/AFP/Getty Images
The Supreme Court nominee refused to shake hands with Parkland father Fred Guttenberg
Today marked the first day of Supreme Court nominee Brett Kavanaugh's Senate confirmation hearings and in attendance was the father of Jaime Guttenberg, a student killed in February's mass shooting at Marjory Stoneman Douglas High School. Video shows Kavanaugh callously ignoring the dad's outstretched hand as he attempted to meet Kavanaugh, and it's absolutely nauseating to watch.
As Kavanaugh was about to leave for lunch, Fred Guttenberg, who has become an activist in the wake of his teen daughter's death, approached to shake his hand. Kavanaugh appeared to look him over — and then walk away without acknowledging the gesture.
The White House tried calling Guttenberg an "unidentified individual" and blamed Kavanaugh's ignoring him on security "intervening" before he had the chance to return the handshake. That was quickly disproven by none other than Guttenberg himself. "Just walked up to Judge Kavanaugh as morning session ended," he said. "Put out my hand to introduce myself as Jaime Guttenberg's dad. He pulled his hand back, turned his back to me and walked away. I guess he did not want to deal with the reality of gun violence."
White House Press Secretary Raj Shah tried making excuses for Kavanaugh — and Guttenberg wasn't having it.
In the months since the Parkland shooting, Guttenberg has been an active gun reform advocate, speaking frequently of the 14-year-old daughter he lost. "No one should feel comfortable talking about the death of my kid," he told Senate democrats shortly after Jaime's death during an informal hearing at the Capitol for survivors of gun violence.
From every vantage point at today's hearing, it's clear that Kavanaugh purposely and cruelly ignored Guttenberg's attempt at shaking hands and explaining his presence in the room.
Some are hoping it was simply a mix-up.
But it's fairly obvious that Kavanaugh knew exactly who he was staring at — and summarily dismissing.
Even though Guttenberg is going to fight against having Kavanaugh confirmed, it was still the absolute wrong move to ignore a grieving father respectfully reaching out his hand.
Hopefully, this only strengthens the resolve of Guttenberg and others who oppose Kavanaugh's frigthening views on gun control to keep up their important work.