People Are Praising This Bridal Boutique For Displaying Mannequin In A Wheelchair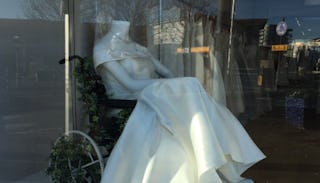 Image via Twitter/Beth Wilson
This shows just how powerful inclusivity is to everyone
A bridal boutique near Bristol, England is getting some well-deserved attention after a picture of their storefront went viral for an incredible reason — their window display featured a mannequin in a wheelchair wearing a wedding gown.
It shouldn't be a big deal seeing an act of inclusivity such as this, but unfortunately, it's a rarity in fashion and even more so for bridal stores. To have a window displaying a bride in a wheelchair is meaningful to a lot of people — and they are getting much-needed reinforcement of that message on social media.
"The new wedding shop in town has a wheelchair using mannequin and it shouldn't be exciting but it's the first time I've ever seen disability portrayed in a shop window," Beth Wilson wrote on Twitter next to a picture of the display.
The store, she later tweeted, is the White Collection Bridal Boutique in Portishead, England, and Twitter couldn't get over what this simple gesture means for so many:
Boutique owner Laura Allen tells TODAY Style that she's happy about the attention the display has garnered around the world. "For this season we wanted to strip it right back and have a mannequin in each window," she said. "Our thoughts of having one of them in a wheelchair was 'why not?' And we didn't really think too much about it."
"We didn't think that our window would get this much attention, but what it really has done is it has opened up a (worldwide!) discussion about inclusivity in this industry, which can only be a good thing!!" the shop continued on their Facebook page. "If this window has done anything, it's shown us how much of an impact having a wheelchair user in the window has caused, and hopefully as time goes by, things like this will not cause so much of a big response, because there will be a lot more of it around."
According to Disabled World, over 6.8 million Americans use assistive devices to help them with mobility — 1.7 million of those using a wheelchair. Having representation for something as meaningful as their wedding day is a big deal. It shouldn't be something people even think twice about, but because it is such a minority in all types of fashion, it needs to be called out — and celebrated.
As with any gesture that makes a person feel seen, this window display is a powerful reminder of just how important it is to include all people. It may seem like a simple act, but it's one that's so very important.
This article was originally published on