Bride With No Girlfriends Invites Her Bros For Bridal Photos Instead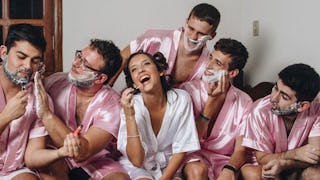 Image via Fernando Duque Photography
She still wanted the classic "getting ready" photos, only with her bro friends
Not all brides have an Instagram-ready cadre of bridesmaids to do the girly pre-wedding rituals, and that's totally cool. But if a bride has mostly male friends, she might feel she's missing out on those classic (typically feminine) "getting ready" photos so many women opt for.
One bride with a lot of bro pals decided to go for it anyway, and the results are completely adorable.
According to Bored Panda, Brazilian bride Rebeca, 24, is a computer engineer with a bunch of close guy friends. As one of only four women out of 60 students in her college program, it's understandable that a good chunk of her buds from those years turned out to be men.
The abundance of dude friends was no big deal until it came time for Rebeca to plan her wedding. She says, "I was looking into some 'making of' pictures of brides with their gang of girls, all in robes, laughing, drinking champagne and all, and I got a bit sad because I wouldn't be able to do anything like that."
So she decided to do it anyway. And it was awesome.
The photographer behind the now-viral images is Fernando Duque of Fernando Duque Photography. He obviously did an incredible job with not only the bride loving his work, but the entire internet. "I am very happy with the photos. Sometimes I look at then and find myself laughing like crazy. But I never imagined this would become so viral," Rebeca shares.
We can't say we're surprised. These photos are simply perfect.
The bride and her bros spent some time doing the traditional fawning over the dress. If their interest is feigned, they've got us fooled. These guys look very invested in the process.
The crew got big day beautiful with spa treatments and pedicures. Oh, and a little manscaping. Because, of course.
"The photoshoot was super fun. Everyone was taking shots of cheap booze and sometimes we were laughing so much that we had to take some time to recover and go on with the photos," says the bride.
We have to say, we're pretty touched by the friendship between this group and the love these guys have for Rebeca is clear. It looks like no one hesitated to throw on a pink silk robe and ham it up for the camera if it meant being there for their best friend's big day.
Besides, there's no way a group of women could pull off this pose with the same panache.