Bride And Her Dad Floor Wedding Guests With Epic Dance Mashup
by Mike Julianelle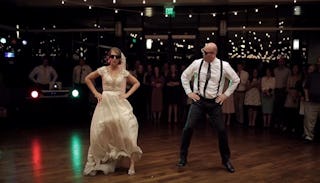 This bride and her dad's wedding dance mashup is slaying the internet
The dad and daughter dance is one of the most treasured traditions of every wedding. But one family took theirs from traditional to turnt with an outrageous dance routine mashing up a variety of songs and steps. The resulting video is going viral with over 200,000 views since last week.
RELATED: The Best Gifts To Give The Father Of The Bride
According to ABC News, Nathan Ellison and his daughter, Mikayla Ellison Phillips, surprised the 400 guests at their Utah wedding by putting a twist on the beloved daddy-daughter dance.
The dance started the traditional way, as the pair began slow-dancing to the saccharine "Butterfly Kisses" before suddenly launching into a four-minute choreographed collection of dances set to songs like "U Can't Touch This" and "Bye Bye Bye".
The duo practiced the routine for a week leading up to the reception, which, when you see it, seems like not much time. And then you find out the bride is a trained dancer who met her now-husband as dance partners on the International Folk Dance Ensemble at Brigham Young University, and that her father had been talking about doing something like this for years.
"I'm the oldest and the only girl so that was my dad's only chance to do something like this," Phillips told ABC News. "He for years has talked about doing that and he finally convinced me…I think since we'd talked about it for years that it was pretty easy for it to come together."
Kudos to them for having fun during a touching but typically by-the-numbers aspects of a wedding reception. Most daddy-daughter dances are marked by heartfelt whispers and happy tears as the father comes to terms with the fact that his little girl is no longer his.
When I got married, my wife and her father stuck to the basics, slow-dancing to the country song "I Loved Her First." It was a touching moment set to vaguely-threatening lyrics about how he would always be the first man in her life and, bartender! Let's just say I wasn't too upset when it ended.
But I could watch this dance for hours. These two have skills, and the fun routine ended up being the highlight of the reception, at least for the guests.
The bride insists getting married to her best friend remains the best part of her day.
[free_ebook]
This article was originally published on