Bride Breastfeeds Baby During Wedding Ceremony In Sweet Viral Photo
by Valerie Williams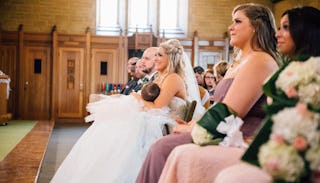 Image via Lana Nimmons Photography
Photo of a mom breastfeeding her baby during her own wedding ceremony goes viral
All breastfeeding moms know that sometimes, you just don't have a choice; you have to feed your kid. But it's few who can say they had to stop everything and breastfeed…at their own wedding ceremony. One mom did exactly that and a photo of the adorable moment has gone viral.
According to The Huffington Post, Christina Torino-Benton's nine-month-old daughter, Gemma, let out that familiar cry during her wedding ceremony to now-husband, Danny. She told him, "It's happening," and proceeded to do what any breastfeeding mom would — she fed her baby.
"I made it work… I had to! Danny has always been so incredibly supportive on this breastfeeding journey, so he just nodded in agreement." Torino-Benton quietly nursed the baby as the ceremony went on, seated among her wedding party. Later, the new wife posted a photo of the sweet moment to the Facebook page Breastfeeding Mama Talk, where it quickly went viral.
The image was captured by wedding photographer Lana Nimmons of Lana Nimmons Photography. Scary Mommy spoke with Nimmons, who told us, "This was the first bride I've ever had nursing, and I was so happy and excited to photograph her. The morning of the wedding day, when we needed to do the bridal photos, Gemma started to cry. She was very hungry, and on top of it, it was a very hot day (babies nurse more in the heat). I asked Christina if she would like to do her bridal portraits while nursing. She said yes, and I saw in her eyes how happy she was. "
After Gemma started crying during the ceremony, the photographer recounts, "Christina's mother passed her the baby and Christina and Danny smiled at each other. Without hesitation Christina fed her baby. No one was surprised, not even the priest. Christina has always fed her baby when needed, and at one point or another we have all seen her feed Gemma."
Of the reaction to the photo, Nimmons says, "It's had such a wonderful response, positive and supportive. This makes me so incredibly happy. Breastfeeding is natural, we are designed to do this incredible thing for our children and it's always baffled me why it became taboo at some point. I am not surprised by the response, Christina is an amazing woman and mother. I am so happy everyone has been so incredibly supportive."
Torino-Benton echoes that sentiment telling The Huffington Post, "I'm feeling nothing but positive vibes from the public response." When it comes to feeding her daughter in public, the mom says, "It took me a while to become comfortable with nursing out in the open, but now it's completely second nature and I wouldn't have it any other way."
And good thing, since it might have been tough to calm Gemma any other way. As the mother of a child who outright refused a bottle, I and any other mom in that position know Torino-Benton didn't really have a choice, not that she seemed bothered. Sometimes, it's those unexpected moments that turn out to be the most memorable, as this beautiful bride just learned.
Congratulations to Christina, Danny and Gemma.
This article was originally published on