Brothers Surprise Bride With A Sweet Tribute To Their Late Father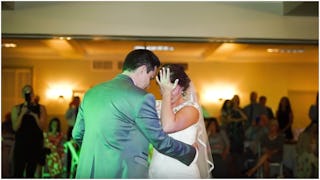 Image via Kevin West/YouTube
A group of brothers decided to surprise their sister with a moving tribute during her wedding
Three years ago, Kaley West's father suddenly passed away. The devastating loss was made even more difficult when she started preparing for her wedding, knowing that her dad wasn't going to be there. West's five older brothers decided to take matters into their own hands and planned an incredibly touching tribute for the bride, on behalf of their late father.
The result was incredible and the video will make your heart burst into one million pieces.
The West brothers knew that they needed to figure out a way to incorporate their father into Kaley's wedding. First, they decided that they would each take turns dancing with their sister during the traditional father-daughter dance. Then, they began brainstorming ways to make sure Kaley felt her dad's spirit on the dance floor.
"The idea came about to cut out his voice of him talking to Kaley in home videos and put those sound bites into the song," Kevin West told Scary Mommy. "My dad loved taking home videos, so the last 3 months we all spent watching hours of home videos. We found the perfect clips and then my brother Kasey edited the song. We kept it a surprise and it couldn't have worked out better."
Just as Kaley began dancing with one of her brothers to Michael Bolton's "Fathers & Daughters," her father's voice popped in. "My name is Dave West and I'm Kaley's dad," he said. "I love her very much. 1800 times worth."
Kaley started crying and I'm going to safely assume that every single one of you behind the computer screen has already started sobbing as well. Her brothers each stepped in to take a turn dancing with her, as their dad's voice continued to come on throughout the song. "Kaley," he said at one point. "Can you wave to daddy?"
Yup, absolutely, completely wrecked right now.
"Kaley was shocked, as soon as she heard my dad's voice she said she felt he was there," West recalled. "She has since told us that was one of the best moments of her life, a moment and song that she can have with her for the rest of her life."
The video of the dance made it onto Facebook and comments poured in. Everyone applauded the West brothers for their incredible tribute and collectively noted that they were crying so, so many tears.
Not only that, but West tells us that Michael Bolton himself caught hold of the incredible video and was extremely moved by it too. "One of the best parts is Michael Bolton himself tweeted about it and shared the video on his Facebook. It just solidified what we did and we definitely appreciated him reaching out," he says.
West says he's touched the video has spoken to so many strangers across the country. "We cannot believe the message this is sending to people," he said. "It's no more about us, it's a message of love and family that I think people are really connecting with."
Kaley couldn't agree more. She told KUTV that her story is a completely universal one and hopes that it provides comfort to those who have lost loved ones.
"This video isn't about me or my family; it's about the most important thing in life which is our loved ones," she said. "Every single person experiences loss, or will experience loss, in those moments can be deep sorrow and despair. However, I want it to be a reminder that you are never alone. Love transcends beyond the physical body and whoever is going through a great loss, no matter what it may be, you are never alone and you are loved."