Bride Holds Wedding Reception At Alzheimer's Home So Her Mom Can Be There
by Elizabeth Licata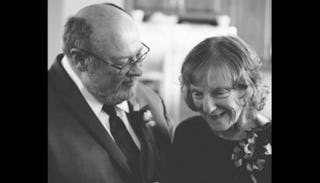 Rather than marry without her mom present, a bride held her reception at an Alzheimer's home so her mother could be there.
Alzheimer's is a monster. It's hard to imagine anything worse for ourselves or our loved ones. And even though a person suffering from Alzheimer's may not seem like him or herself anymore after the disease has taken its toll, that person is still alive, and one young bride recently decided that even though her mother wouldn't recognize her, she still wanted her at her wedding. So she moved her reception to the Alzheimer's home where her mother has been living.
According to Today, 66-year-old Linda Napolitano was diagnosed with early-onset Alzheimer's six years ago. It was a tragedy, especially for her young daughter Julia, who was only 24 at the time. Linda had no history of Alzheimer's in the family, and the diagnosis came as a terrible shock to everybody.
"I'm an only child, so taking care of my mom has always been in the back of my mind," Julia said in an interview with Today.com. "But as a girl in my 20s, to hear that my mom had been diagnosed with this horrible disease … you just think, 'Oh my gosh. No.'"
Julia recently got married, and though she had to do her planning without her mother to help, she knew she still wanted her to be part of the day. However, her mother has been a resident at an Alzheimer's community, and taking her away from it would have been too difficult and distressing. That's when Julia decided to have the wedding come to her mother.
"She may not be the same person in every sense, but she is alive," Julia said. "And we need to share that life, even if it's only for a short amount of time."
The wedding ceremony took place at a church and the wedding program told guests that after the service, the wedding would be moving to the bride's mother's Alzheimer's home for a short reception before the official party. Much to their surprise, virtually everyone on the guest list arrived at the Alzheimer's home to celebrate with the bride and her mother.
Tragically, Linda Napolitano can no longer recognize her daughter or her husband, but it was important for them to know that she was there and a part of the day. The moment when her mother got to see her in her wedding dress for the first time was especially poignant to Julia.
"I walked in, and the crowds parted, and then they brought Mom around the corner. That moment — when she got to see me in my dress … I can't describe the feeling," the bride said. It's enough to bring anyone to tears.
The Alzheimer's community really came together for the event, too. Someone did the bride's mother's hair and makeup, the residents and staff got dressed up, and there was a cake in the wedding colors. There was an "official" reception later in the evening, but all the big firsts happened at the Alzheimer's home. The bride and groom had their first dance as a married couple, and the bride's mother and father danced together. It was a very sweet and important memory for everyone involved. And while the bride's mother could not communicate her feelings about the event to her family, they believe it was a significant day for her too.
RELATED: The Best Gifts To Give The Father Of The Bride
"Deep down, we all truly believe that she understood there was something special going on," the bride said.
The bride's family is going through an unimaginable tragedy, but they found a way to include her mother in the special day to the best of their ability. It's simultaneously sweet and heartbreaking, and hopefully they will treasure the memories and the photos from the event for a long time.
This article was originally published on