Bride Shaves Head On Wedding Day To Support Terminally Ill Husband
by Jerriann Sullivan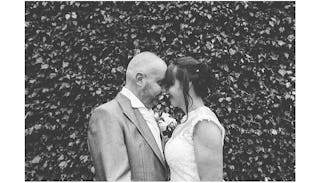 Bride shaves head to honor husband, raise awareness about illness
In a moving tribute to her terminally ill groom, a bride shaved her head on her wedding day. The photos from their special ceremony are utterly heartbreaking, but so beautiful. They capture the love and hope Joan and Craig Lyons share.
The Lyons' love story started nearly 30 years ago when they were both 14. Craig said it was "love at first sight," but it took the friends several decades to finally admit their true feelings. Finally, Craig proposed to Joan with a milkshake in hand inside a McDonald's. "That is how we are," Joan said. "That is our little heaven enjoying the simple things, as long as we're together."
The newly engaged couple were living in Liverpool and loving life when they were blindsided by some devastating news. Craig was diagnosed with stage IV pancreatic cancer and could only expect to live nine to 12 months; the doctors told him last August. "We decided to do all the things we wanted to do but never did," Joan told CBS news. Those things included raising money for cancer research and having a big wedding with friends and family on April 15.
The bride and groom looked beautiful and were clearly overjoyed during the ceremony. Photographer Kimberley Struth shared her stunning photos from the day with Scary Mommy. Struth, along with most of the wedding vendors, were connected with the couple through the "Gift of a Wedding" charity that ensures terminally ill people can throw the wedding of their dreams without worrying about the cost.
The Lyons, in turn, used their time and energy to continue fundraising for nonprofits that help adults and kids with cancer. "In the face of some really bad news they are courageous enough to keep raising money for other people," Struth said. "It takes a really special person to be able to do that."
Joan took it a step further and shaved her head during the wedding reception. She wanted to show support for her husband and also help kids struggling with serious diseases. "I was really relaxed during the process, just thinking how thankful and privileged I was to be able to do this," Joan said. Her hair will be used to make a wig for a terminally ill child through the organization Little Princess Trust.
Struth captured how calm and composed Joan was during the whole process. The stunning bride's smile shows how happy she was to help others – even on a day that many consider to be all about the bride. "Joan is a woman with a really big heart and it was no surprise that she wanted to help raise money with her big day," Craig told the Daily Mail.
Struth, who runs her photography business with her husband, said the wedding was one of the happiest she's ever shot. "It was very emotional… seeing the love and pride Craig had for his wife," Struth said. Joan's extraordinary gesture clearly meant the world to Craig. "He told me how beautiful I looked, and he was proud of me," Joan said.
The couple plans to continue raising money and helping others. "We really want to raise awareness of the disease too because it is quite rare for me to get it in my forties, people usually get it in their sixties," he said. But they're most happy to enjoy their lives as a married couple. "After all these years, how blessed I was that it was me he chose to share his life with," Joan said. "Nothing could ever take that moment away from me; and I will remain by his side and share his fight."