Bride Sued 'Say Yes To The Dress' For Airing Her Show Before She Got Married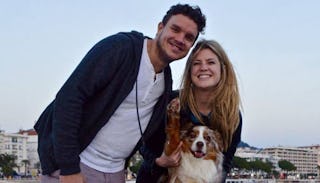 Bride sued "Say Yes To The Dress" and is planning a second lawsuit over the episode
What started out as a bride searching for the perfect wedding dress turned into a failed lawsuit with the promise of a new legal battle after one woman's appearance on "Say Yes To The Dress." Alexandra Godin sued the popular TLC show because it aired her episode last night, which is several months before her wedding. The 26-year-old bride-to-be says the show's producers promised to hold her episode until after her wedding despite signing a contract that contradicts those claims.
"It really has kind of whirlwinded into this nightmare," Godino told Good Morning America. "I'm pretty sure every woman who's ever been married or dreamt about getting married would understand." Perhaps ladies would agree, but most likely not since most brides don't go on a widely popular television show as part of the marriage process. What was the motivation to get involved with the show in the first place?
The application that TLC has online clearly states the bride is footing the bill for everything – travel, accommodations, and purchases made at the bridal store. It goes on to say that the bride won't receive any monetary compensation either. A few brides who have been on the show did say they received a small discount on their dress, but in general, it appears being on the show is the only benefit to welcoming America into your life via cable tv.
A New York judge ultimately ruled against Godino. "I appreciate that (airing the show Friday) could take away from the pageantry of the wedding," Manhattan Supreme Court Justice Nancy Barron said. But that pesky contract she signed giving the producers full control over her image without specific details on when they could use it was why Barron ruled against Godino, Redbook reported.
The judge raised another excellent point when she asked the bride's lawyer if Godino could request her fiancé not watch the episode, according to TMZ. She said yes because what else would she say? It's safe to say her fiancé probably doesn't plan his Friday nights around the latest "Say Yes To The Dress" episode. And it's unlikely he'd be binge watching "Sister Wives" and accidentally see a preview of her episode.
The situation got more ridiculous after the judge's ruling when Godino's lawyer said they plan on suing the show for damages. What damages? Having to DVR an episode and watch it later is not exactly a traumatic experience.
Most brides spend an average of $1,357 on their wedding dress, according to a survey from The Knot. So it is easy to see how finding the right dress could be important to Godin. It is important to a lot of women. But if keeping it a surprise until the day of the wedding was also a priority then she shouldn't have agreed to be on the show.