Bride's 92-Year-Old Uncle Is Her 'Something Blue' And We're Bawling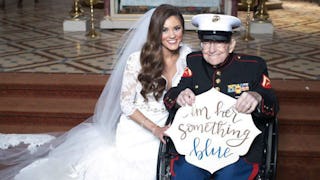 Image via Imageclairity
Bride's uncle holds sign: "I'm her something blue"
This story takes the "something old, something new, something borrowed, something blue" wedding tradition to a whole new level. Garters and hankies are the usual go-to good luck charms for brides, but a woman in Missouri got an extra special "something blue" at her wedding. She got the gift of a lifetime.
Alison Ferrell's 92-year-old uncle, Bill Lee Eblen, dressed in Marine "blues" came down the aisle at her wedding on May 13 holding a sign that read, "I'm her something blue." Ferrell submitted the precious photos of her beloved uncle on her wedding day to Love What Matters Facebook page.
Eblen is a World War II and Korean War veteran. On the day of his niece's nuptials he was wheeled down the aisle in a wheelchair wearing a Marine Corps uniform complete with the very iconic blue pants. It appears nothing was going to stop him from being there, not even his recent bout of pneumonia or his extended stay in rehabilitation. He was determined.
"'What's your goal?' One of the nurses asked him.
"'To be her 'Something Blue' on her wedding day,' my uncle replied from his hospital bed," Ferrell writes.
As you might imagine, there wasn't a dry eye in the church when he was escorted down the aisle. We also did an ugly cry looking at the photos.
"It was such an honor to have him serve as my 'Something Blue' on my wedding day and a memory that will last a lifetime," Ferrell writes.
Because Ferrell was the bride she didn't get to see her uncle come down the aisle (she walked after him), but she told PEOPLE that they shared glances during the mass. With everyone's emotional reactions it turned out be a moving experience with all the feels for everyone involved.
"I felt a tremendous amount of pride and it brought me a lot of joy to see how happy he was and how moved those in attendance were by his presence," Ferrell tells Scary Mommy.
The decision to include her uncle in the wedding was automatic from early on. She told PEOPLE her family is close-knit and she knew she wanted to honor "Uncle Bill" in a special way.
"I come from a family where we have great respect and admiration for those in the armed services, so having him there in his blues was perfect," she said.
To get Eblen down the aisle in dapper blues was a team effort. One that was clearly a labor of love. Neighbors and family members helped Eblen piece togther an outfit resembling his original Marine blues before the big day.
"He looked great!"
In true Marine fashion, Uncle Bill stayed faithful to his promise and served his niece with the most beautiful memory on her special day.
"You don't ever forget your military experience," Eblen said. "I just respect Alison's decision to include me in her wedding, plus it was a lot of fun!"
He's a man we can all look up to and admire for so many reasons.
"My uncle is an American Hero to our family. What I admire most about him is his perseverance to overcome not only the obstacles that he faced in WWII, but his current health obstacles to make it to my wedding."
This article was originally published on