Bridesmaid Gets Kicked Out Of Wedding Party And The Internet Can't Handle It
by Thea Glassman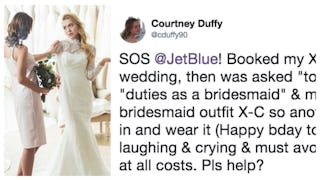 Image via Getty/Lightfield Studios/Twitter/Courtney Duffy
A bride kicked her bridesmaid out of the wedding party and the reactions are priceless
Being a bridesmaid can be a fraught experience. It's expensive, time-consuming, and did I mention expensive? Emotions are usually running high during wedding preparations and there's bound to be some socially awkward moments that come along the way. Case in point: Twitter user Courtney Duffy shared an email she received from a bride kicking her out of the wedding party.
Duffy took to social media to share what happened and asked JetBlue to do her a solid.
"SOS JetBlue! Booked my X-C flights for a wedding, then was asked 'to relinquish' my 'duties as a bridesmaid' & mail my bridesmaid outfit X-C so another girl could fill in and wear it (Happy bday to me!)," she wrote. "I am laughing & crying & must avoid this wedding at all costs. Pls help?"
She attached the email, which did indeed prove that she had been formally asked to step down from the wedding party.
In the email, Alex, the bride, explained that she made this decision because her friend couldn't make it to the bachelorette trip or the full day of the wedding (she apparently had a flight booked for the evening of the ceremony) due to grad school obligations. Things got a little more uncomfortable when Courtney was asked to return her wedding outfit.
"I know this is incredibly awkward but there is a possibility that I might be able to have someone else step into the role and assume the duties," the bride wrote. "Could you please mail the jumpsuit to me? I'll Venmo you the postage and the cost of the jumpsuit – just let me know the total."
She concluded her email by reassuring her former bridesmaid that they were "totally cool" and she was looking forward to seeing her at the wedding.
So, the internet had some thoughts about this email. Some said that the bride was perfectly in the right for asking her friend to step down.
https://twitter.com/jetpack/status/1022998972061954048
Some people were completely #TeamCourtney.
https://twitter.com/jetpack/status/1023005836254294016
https://twitter.com/jetpack/status/1022973550490275840
Others had some choice words about that jumpsuit.
Oh, and then JetBlue got in on the action.
It doesn't totally sound like Courtney and Alex are going to go on a girl's getaway trip anytime soon. BUT hopefully Courtney uses those miles to head somewhere fun after her classes are done (the jumpsuit may or may not be in tow).