Bridezilla Requests Fiancé's Son Go Back In The Closet For Their Wedding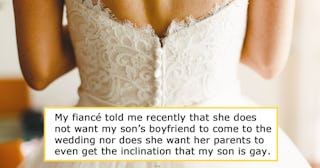 Reddit and Joaquin Corbalan/Getty
Bride from hell doesn't want her future stepson's boyfriend coming to the wedding
We've all read (or seen) soon-to-be brides go over the top about certain wedding details, like an elaborate list of must-dos for wedding guests, concerning themselves (and then actually vocalizing) frustration with the size of their bridal party, or just generally being a complete pain in the ass about, well, everything. But this bridezilla may just take the cake because she asked her future husband to make sure his son doesn't bring his boyfriend to their wedding.
A Reddit user (and single dad since the age of 18) posted about his predicament under the name "throwaway-the wedding", asking folks if he was crazy to be considering calling off his wedding after his fiancé asked for his son not to bring his boyfriend to the big day because her family would disapprove of him being gay.
The people have spoken, and he would not, in fact, be crazy.
His son, now 22, came out to him when he was 14 years old. "I've always been supportive of him and his identity," he wrote. Though his fiancé apparently never had an issue with his son's sexuality, she comes from a very religious (and clearly very judgmental) family.
"My son has been dating his boyfriend since he was 18 and I've gotten to know him really well. However my fiancé told me recently that she does not want my son's boyfriend to come to the wedding nor does she want her parents to even get the inclination that my son is gay," he continued. "This really bothered me because I refuse to ask my son to go back in the closet."
For a bride to not include a person who is clearly important, not only to her future husband but to those he loves is ridiculous. Discrimination of any kind has zero place in this world, especially so on a day meant to celebrate love and family.
He went on to voice his concern about future family events and said it's unrealistic to ask his son not to bring his partner to such an important day. "He's my son and will be the best man and it would be unfair to deny him a plus one because her family has an issue with gay people," he wrote.
When he expressed his feelings to his fiancé, he was met with anger swiftly followed by The Cold Shoulder. She "told me that I was being selfish and over-dramatic – that it would just be for this one day, that she wants the perfect wedding," which is code for "I want this day to be perfect for me."
The soon-to-be husband is now contemplating calling off the wedding altogether. "I do not want to marry into a family that would potentially discriminate against my son. I love my fiancé very much but my son will always come first," he said.
Though his brother sided with his fiancé and said it's only one day, this proud papa said he's still having doubts. "I still don't feel comfortable about the entire situation and am really thinking about calling the wedding off. Would I be the asshole if I did this? Am I being unreasonable here?" he asked.
No sir. No, you are not.
This article was originally published on