Wine Kegs Full Of Rosé Exist And They're The Summer Treat You Deserve
by Cassandra Stone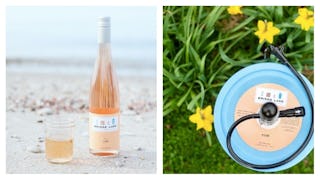 Image via Instagram/Bridge Lane Wines
You'll be asking yourself how you got this far in life without a wine keg
Forget the standard cheap beer crowdpleaser when it comes to kegs — if you really want to get your picnic guests in a grand mood, we give you: wine kegs.
Yes, kegs of wine are a thing. They're basically the perfect summer treat you didn't even know you needed.
Bridge Lane Wine, a Long Island winery, has truly created the perfect business model: selling five wines via four different vehicles. Which means you can sip your favorite Chardonnay or Rosé via bottle, box, can, and yes — a keg. Bridge Lane says their wines aren't meant for sniffing and studying. They're intended for "casual sipping and sharing with friends" — boy, do they know how to market to their target audience (me + all of you) or what?
You can literally Rosé All Day. Because there's enough of everyone's favorite blush wine in this keg to last the entire day, night, and then some. Probably best to share, but you do you.
Is there anything better on a hot summer day than the crisp notes of a Chardonnay? Shit, that's a good rhyme right there. Maybe Bridge Lane is looking for copywriters/wine rappers? Taste testers? Keg pumpers? If so, they should know I'm what they call a "triple threat" in that arena.
Turn a classic table wine into one hell of a good time (seriously someone stop me, this is getting embarrassing). A little Sauv Blanc goes a long way at your next get-together. I know those 4th of July fireworks look even better after a glass or two out of this guy right here.
Why should beer drinkers have all the fun at summer picnics? While I've never been known to turn down a good beer myself, having a little variety can't hurt. I'm honestly kind of upset I've somehow gotten this far in life without knowing about wine kegs.
The great news is, now anyone can try one! You don't even have to live on Long Island. If you're ordering from outside New York, the keg will come with its bag of wine inside a sturdy cardboard case rather than a plastic shell. Bridge Lane's kegs are good for up to six months unopened. Once you've tapped in, you have two days to drink up unless you've got a kegerator. In which case, let me be your new BFF.
One keg is equal to 19.5 liters, or 26 bottles if you prefer that kind of math (I do) and costs $240.00.
Regardless of which portable way you like your wine, Bridge Lane truly has something for everyone. Cheers.
This article was originally published on