Tighten Your Corset Because 'Bridgerton' Has Been Renewed For Season 2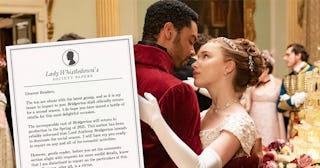 LIAM DANIEL/NETFLIX
The second season of 'Bridgerton' will focus on Anthony's story
If you're one of the 63 million households that streamed Netflix's latest hit, Bridgerton, this winter, keep reading. If you're not one of the 63 million, WHAT IS WRONG WITH YOU? Just kidding (kind of). Fans of the Shondaland Regency-era drama will be delighted to know that the show has been officially renewed for a second season.
With the wild success of the first season and the fact that the show is based on a series of eight books, news of a renewal probably isn't a surprise. But it IS delightful just the same. The first season followed the eldest Bridgerton daughter, Daphne, in her quest for love, just like the first book of the series, The Duke and I, did. The second season of the show will follow suit by focusing on eldest son Anthony's love life. His story can be found in The Viscount Who Loved Me in Julia Quinn's bestselling series.
The news was announced via papers from Lady Whistledown herself.
"The ton are abuzz with the latest gossip, and so it is my honor to impart to you: Bridgerton shall officially return for a second season. I do hope you have stored a bottle of ratafia for this most delightful occasion," the notice reads.
"The incomparable cast of Bridgerton will return to production in the Spring of 2021. This author has been reliably informed that Lord Anthony Bridgerton intends to dominate the social season. I will have my pen ready to report on any and all of his romantic activities," it continues.
"However, gentle reader, before you set the comments section alight with requests for more sordid details, know that I am disinclined to report on the particulars at this time. Patience, after all, is a virtue."
With filming set to begin this spring, we'll soon be able to escape into Regency London once more.
Though the second season will focus on Viscount Bridgerton, Anthony, as he sets on his quest for a wife, the entire cast from the first season will be returning. This means more Simon and Daphne, because you know you were wondering. Specifically about Simon, because, let's get real… whew.
Casting is currently underway for several new roles, most notably the female romantic lead opposite Anthony Bridgerton — Ms. Kate Sheffield. (This is not a spoiler, the books have been out for 20 years and it's a show based on a romance novel, so there's always going to be a "happily ever after").
Though we all fell in love with Simon, Jonathan Bailey's Anthony also proved to have an enthralling storyline, and it's only going to get better.
The storyline for season two was teased in the final minutes of the season one finale when Anthony revealed to Daphne and Simon his plans of "finding and promptly declaring my intentions to my new viscountess."
Given that Bridgerton has already become a pop culture phenomenon since it's Christmas Day debut, and with good reason — it's the first time a romance has taken center stage in a long time, particularly a romance adaptation of a romance novel, which are notoriously looked down upon because misogyny. People think they're being elitist "book snobs" by pretending romance novels are beneath them, but really they're just assholes who can't handle reading for joy for whatever reason.
Anyway, Bridgerton is an absolute delight and we cannot wait to see what kind of romantic entanglements and family hijinks season two has in store.