'Bridgerton' Is The New Shonda Rhimes Series We All Need To Escape 2020
by Cassandra Stone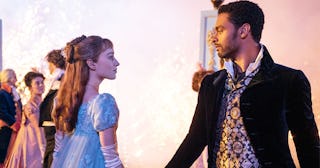 BRIDGERTON (L to R) PHOEBE DYNEVOR as DAPHNE BRIDGERTON and REGÉ-JEAN PAGE as SIMON BASSET in episode 101 of BRIDGERTON Cr. LIAM DANIEL/NETFLIX © 2020
'Bridgerton' is based on a very popular historical romance series you should start reading now to prepare for the show
Can you think of a better day to take a "brain break" and plunge yourself head-first into fictional escapism? Nope, there isn't one. And in case you haven't yet seen the trailer for Bridgerton, the first Shonda Rhimes show for Netflix, today is the day to feast your eyes on the brilliant cast, eye-candy costumes, and the one and only Julie Andrews as a society gossip maven who knows all when it comes to the scandals of Regency-era England.
Bridgerton is based on a highly popular historical romance series by author Julia Quinn, and the first season takes on the first book, The Duke and I. Set between 1813 and 1827, the Bridgerton books are a series of eight novels that follow the escapades of the tightknit, endlessly entertaining Bridgerton family as they navigate Regency balls, afternoon teas, family hijinks, and — oh yes — the bedsheet-laden scandals of London's high society. All eight Bridgerton children (who are named in alphabetical order, thank you very much) have their own book in the series.
Please, set your teacup down and enjoy this fabulous trailer.
The Shondaland version of the Bridgerton world follows the eldest daughter, Daphne Bridgerton (played by Phoebe Dynevor), as she makes her debut onto Regency London's competitive "marriage market." Daphne is beautiful, vivacious, and despite it not being a realistic endeavor at the time, hopes to marry for love as her parents did.
Her three older brothers (Anthony, Benedict, and Colin) have a grand ol' time ruling out her potential suitors, however, and a high-society scandal sheet written by the mysterious Lady Whistledown (voiced by THE Julie Andrews because sometimes we can have nice things) causes quite a stir among the elite circles of London.
Lady Whistledown knows everything there is to know when it comes to the secrets and desires of the rich and notorious. So when the mysterious and aloof Duke of Hastings (played by Regé-Jean Page, and let This Author just say…WOW) enters Daphne's life, he appears to reconsider his eternal bachelor status as the sparks fly between them. But things aren't always as they seem, and the plot is full of schemes and hurdles for the couple.
In addition to sexual tension for days, Bridgerton brings a delightful cast of amazing supporting characters (it's imperative that you know it features a family named The Featheringtons and they are everything you want them to be and more). The show is also setting itself apart by casting Black and brown actors who are playing lords and ladies alongside white actors because my God, period pieces are amazing but they are also consistently lily-white and that is just so, so boring.
"I'm ashamed to say that the word 'inclusive' only started to be used a few years ago in our business," Bridgerton's casting director Kelly Valentine Hendry told Vogue UK. "It was a world of white men making content through their own lenses. It wasn't until recently that I felt confident enough to challenge the people I answer to."
On a personal note, as someone who has read each of the Bridgerton novels so many times all eight books are dog-eared and falling apart, when I heard Shonda Rhimes was taking my favorite books and turning them into the sexy, funny, feast-for-the-eyes Netflix drama of my dreams, I lost my sh*t. Big time. (And not just because I have two books personally signed by the author herself, and my own almost-finished romance manuscript collecting dust in the ether of my MacBook).
Here's why. Romance novels, particularly of the historical variety, do not get the credit they're due. True romance novels typically feature strong female leads living their best lives, finding love, having good sex, and overcoming relatable obstacles to get the "happily ever after" the characters and the readers deserve.
Nicholas Sparks books, for example, are not romance novels. They are tragedy porn. And while tragedy porn goes mainstream and everyone "oohs" and "ahhs" over people dying and being miserable (my God does our society love some Suffering Olympics), actual romances get dismissed because of misogyny — both internalized and blatant.
Sometimes it's just nice to read things that bring us joy. And no one should feel one iota of shame over it.
To have Julia Quinn's books — which will make you laugh out loud, swoon, and dab at your eyes a bit — come to life on the largest digital platform in existence, with Shonda Rhimes at the helm, well, it's a bright light to top off a year of nothing but despair.
Bridgerton premieres on Netflix on December 25.
This article was originally published on