'Bridgerton' Season 2's Lead Is South Asian And Fans Are Here For It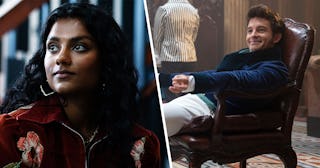 NETFLIX
Bridgerton Season 2 will feature Simone Ashley, a South Asian woman, in one of its starring roles
Gather 'round, Dear Readers — there's news about the ton! We already know that the second season of Netflix's hit series Bridgerton, the streamer's adaptation of Julia Quinn's romance novels, is in the works, and that it will follow the second book in Quinn's popular series, "The Viscount Who Loved Me." While no release date has been confirmed yet, casting news is starting to hit headlines. And we just learned that one of the starring roles in the second season will be played by Simone Ashley, a South Asian woman.
You might recognize Ashley from her role in another hit Netflix series, Sex Education. In Bridgerton, she'll reportedly play Kate Sharma (Kate Sheffield in the books), Anthony's love interest. The casting move was announced in a tweet written in the style of Lady Whistledown, the mysterious gossip writer who keeps the entire ton on their toes throughout the series.
Bridgerton has already been praised for its diverse portrayal of a gossip and scandal-ridden Regency London. But fans were particularly thrilled about the news that Ashley will star in the upcoming season — particularly the show's South Asian fan base. Fans are extremely here for the representation.
https://twitter.com/jetpack/status/1361454298400448513
https://twitter.com/jetpack/status/1361464163072020480
Others pointed out the significance of changing her character's name from the incredibly white "Sheffield" to "Sharma," which means joyfulness and comfort in Hindi.
Though the name change did get a little bit of backlash from fans, others were very quick to defend it.
https://twitter.com/jetpack/status/1361463383057256451
We're already here for Kate Sharma, and nothing is going to change that at this point. Bring on Season 2.
"We have a bunch of new characters we are going to be introducing," creator and showrunner Chris Van Dusen said when announcing the Season 2 renewal on Today with Hoda & Jenna last month. "Anthony is going to have a love interest next season, and I think it's going to be as sweeping and moving and as beautiful as viewers of the first season have come to expect from the show."
In other Bridgerton news, Phoebe Dynevor finally publicly addressed all those pesky rumors that there's more than a professional relationship between her and her smoking hot co-star, Regé-Jean Page. The chemistry between them is so undeniable, can you even blame fans for their wishful thinking?
But in an interview with You magazine, Dynevor shut the rumors down.
"I'd love to say there was really something between us. But no, it has always been strictly professional," she said. "There was so much pressure on us to get it right that it was all about the work. We have a really professional working relationship. I'm glad for that, actually. It would be very complicated if it went further."
Luckily, we have Anthony's love story to look forward to in Season 2, and with the addition of Simone Ashley to the Bridgerton cast, we'll have a new couple to stan IRL in no time.
This article was originally published on