Brie Larson Won't Let 'Captain Marvel' Press Tour Be 'Overwhelming White Male'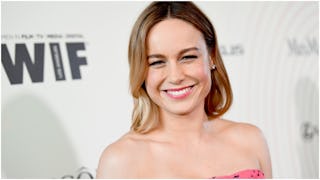 Image via Getty/Emma McIntyre
Brie Larson is pushing for more diversity in her upcoming Captain Marvel press tour
On-screen, Brie Larson is kicking ass as Captain Marvel, a superhero fighting in a galactic war. Off-screen, she's kicking ass in a very different, but very important fight. The actress is pushing for more diversity in her film's press tour – and she's already put her money where her mouth is.
When Larson was asked to be interviewed by Marie Claire, she specifically requested that her interviewer be Keah Brown, a journalist who writes about "pop culture, disability, blackness, and womanhood." During their conversation, Brown emphasized just how much that decision meant to her.
"I was thrilled you requested me to interview 
you," Brown told Larson. "I thought, 'This is game-changing'. It's the biggest opportunity I've had. Nobody usually wants to take a chance on a disabled journalist."
Larson explained that she had noticed the journalists interviewing her and reviewing her movies were "overwhelmingly white male[s]." And there are stats to back that up. A study from the USC Annenberg School for Communication and Journalism analyzed 19,559 reviews from Rotten Tomatoes, a film review aggregation site, and found that a staggering 77.8% were written by men. The study also noted that the "Top Critics" subsections – aka reviewers who write for major publications – were 76% male.
Larson wants to tip that scale. "Moving forward, I decided to make sure my press days were more inclusive," Larson told Brown. "After speaking with you, the film critic Valerie Complex and a few other women of color, it sounded like across the board they weren't getting the same opportunities as others. When I talked to the facilities that weren't providing it, they all had different excuses."
The actress also noted that she's been given a whole lot more power now that she's in the Marvel universe and she plans to use those resources to help others, like a true superhero.
"I want to go out of my way to connect the dots," Larson said. "It just took me using the power that I've been given now as Captain Marvel. [The role] comes with all these privileges and powers that make me feel uncomfortable because I don't really need them…It's a by-product of the profession and a sign of the times. But any uncomfortableness I feel is balanced by the knowledge that it gives me the ability 
to advocate for myself and others."
Yes, yes, YES. The galactic universal gets Larson as a powerful fighter and the real world gets Larson as a powerful ally.
People took to Twitter to applaud the actress for taking a stand and pushing for diversity within the entertainment journalism community.
This isn't the first time Larson has spoken out about the lack of representation in the film critic community. During her acceptance speech at last year's Crystal + Lucy Awards, Larson told the crowd, "Am I saying I hate white dudes?" Larson said. "No, I'm not … [but if] you make the movie that is a love letter to women of color, there is an insanely low chance a woman of color will have a chance to see your movie and review your movie."
Here's hoping that more stars use their very big, very powerful platforms to advocate for more diversity and inclusion. That's what real superheroes do.
This article was originally published on