Britax Recalls Over 100,000 Car Seats And Strollers: Is Yours Included?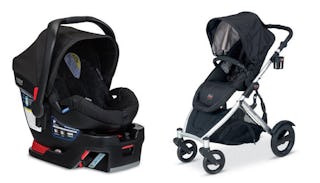 Britax has issued a huge recall of select car seats and strollers.
Here are two words every parent hates to hear: recall alert. But, it's better to be safe than sorry, so you should probably know that car seat maker Britax has issued a voluntary recall of some of their seats and strollers.
The recall is for 71,000 B-Safe 35 and B-Safe 35 Elite car seats and travel systems made between October 2014 and July 2015. They're also recalling 35,000 B-Ready strollers and replacement top seats manufactured between April 1, 2010 and December 31, 2012. The car seats apparently have a faulty handle that could break easily and cause parents to unintentionally drop the seat. The strollers have foam padding on the arm bar that could pose a choking hazard to small children. According to NBC Philadelphia, there have been reports of about five children choking on the padding.
The recall includes seats and strollers sold in both the U.S. and Canada. Customers who registered their products will receive a free repair kit or replacement part. If you haven't registered your baby gear and are worried that it may be included in the recall, you can go to the recall page on the Britax website and enter in your product's model number to see if it's affected.
On the B-Ready strollers, the model number and date of manufacture are printed on a label on the stroller's frame between the front wheels, or on the inside frame that connects to the back right wheel. For the B-Safe 35 and 35 Elite car seats, the model numbers are printed on a label located at the back of the seat on the outside carrier shell. If you have any of these products, be sure to find those numbers and verify that you're in the clear.
Even though baby products are manufactured with safety in mind, recalls do happen from time to time. The very best way to ensure you're on top of the most current recall information is to register your products. It's especially important with car seats, as the recalls that affect seats can potentially protect your children from serious danger.
A survey of parents by the National Highway Traffic Safety Administration last year actually found six in every 10 parents don't register their car seats. That means a whole bunch of us are slacking off. Luckily, there's a solution: if you're one of the majority of parents who hasn't registered your seat and you lost the registration card in the couch somewhere, you can still go to safercar.gov and register your seat, regardless of make or model.
Whether your baby gear is included in the Britax recall or not, recalls are serious business. Check your model numbers, get your stuff registered, and then, you know, watch some Netflix or something. You've earned it by trying to read all those teeny-tiny model numbers.
This article was originally published on