British Invasion: Princess Charlotte And Prince George Melt Our Hearts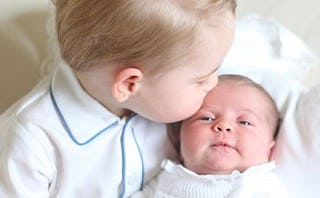 First, KNEE SOCKS.
Second, Princess Diana. Because all I can think about is how very much Diana would have loved to have seen these beautiful children in the world, and how proud she would be to see William become a husband and a father.
I remember watching Prince Charles and Princess Diana's wedding when I was a child, and how we all believed it was a fairy tale come true. Obviously, we watched it unravel later, and it felt personal. I vividly remember the night she died in the car accident in Paris too, when I sat stunned and watched news coverage for hours. I don't consider myself a "Royal Watcher," but I still feel a lot of personal attachment to Diana and her boys, so of course, I had to watch William and Kate's wedding as well. It almost felt like I had a responsibility to sort of watch over Diana's boys in her absence.
Welcome to the world, Princess Charlotte. We all love you already.
This article was originally published on