Couple's Over-The-Top Nanny Ad Sounds Like A Joke — But It Isn't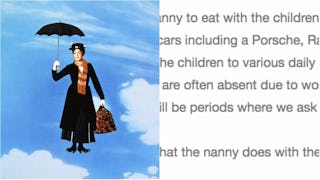 Image via Disney
Get ready to lol — and roll your eyes
Finding a babysitter or nanny is tough stuff for any parent. After all, this is the person you're entrusting with the little souls you love most in this world. It would stand to reason that your requirements be somewhat high.
But there's such a thing as too high, as is the case with these parents who appear to expect a literal Mary Poppins to care for their kids.
The ad, on Childcare.co.uk, requests a nanny out of a dream. There's simply no way anyone is meeting these sky-high qualifications, but let's try.
They describe themselves as "a friendly family of six with 4 children ages 2, 5, 7 and 15" with residences in London, Barbados, Cape Town and Atlanta. And the right applicant will have to be a super-experienced, child-free, well-educated professional in all four of them.
"We are looking for a highly qualified nanny who has a degree in child psychology, no children of their own and a minimum of 15 years of nannying experience," they write.
LOL sure. There's plenty of those lying around.
"The candidate must be willing to work six days a week, 7am to 8pm."
The equivalent of two full time jobs? Totally reasonable.
"Our children are home-schooled and require constant attention and supervision, even when they are with their teachers. We'd like our nanny to participate in lessons where appropriate, to help further their studies outside of the classroom."
Oh, so they get their lunch break after that?
"We'd prefer our nanny to eat with the children at every meal, which will be cooked for them by a Michelin star chef, however this isn't mandatory."
Ah. No lunch break. Got it.
"Ideally our nanny will be trained in self-defence, however if the right candidate doesn't already have this training we will provide and pay for it. This is non-negotiable."
This is actually pretty boss. You get to be a nanny to the uber rich and train with some Kill Bill-style former assassin? Because you know they'll lay out money for top-tier ass-kicking lessons.
Another perk is use of the family's cadre of swank vehicles. "We have multiple cars including a Porsche, Range Rover and Maserati which are available for the candidate to use – we expect the nanny to run errands and take the children to various daily appointments."
They're offering the equivalent of $128,000 U.S. dollars for what amounts to about 80 hours a week, so this person will be rolling in dough, along with having a Porsche to drive around.
The nanny can use those cars during her "free" hours too. You know, when the family kicks you out to have their alone time. "My husband and I are often absent due to work and social commitments, but when we are home we like to have time alone with our children. Therefore, there will be periods where we ask our nanny to take leave to allow us to have quality time as a family."
Also? No partying. "We do not mind what the nanny does with their free time, however binge drinking or drug taking will not be tolerated and will result in instant dismissal."
With what will amount to maybe three waking hours per week to themselves, we doubt this nanny will have time to reenact scenes from Entourage anyway.
We wish the best of luck to whoever ends up in this gig and hope like crazy that they write a tell-all once they inevitably quit.
This article was originally published on