Britney Blames Her Mom For 'Ruining My Life' In Deleted Instagram Post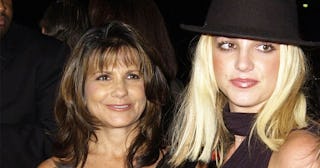 SGranitz/WireImage
Did Britney Spears just reveal that her mother was actually the mastermind behind her 13-year conservatorship?
Britney Spears is almost free, for essentially the first time in her adult life. For the last 13 years, she's been under a strict conservatorship of both her finances and her person, which she has recently alleged included reproductive abuse. Now, as the courts prepare to finally end the conservatorship and set her free, Britney has been revealing more and more about what she's endured these past 13 years, especially with the members of her family who helped ensure the conservatorship would continue.
In a now-deleted post on Instagram, Britney took direct aim at her mother, Lynne, for the first time.
"The moment I SMILE and realize I haven't in a very long time," the singer wrote. "My mom gets so CONCERNED and says 'You're acting weird… what's wrong with you?' I say 'Hi, my name is Britney Spears… nice to finally meet you.'"
Britney continued, "It was a family business before… It's no longer that anymore! I was BORN today because I got to SMILE… so thank you for exiting out of my life and finally allowing me to live mine! Pssss do you know how mean I sound? Yes, I 100 billion percent do… my dad may have started the conservatorship 13 years ago… but what people don't know is that my mom is the one who gave him the idea! I will never get those years back… she secretly ruined my life."
Lynne has stayed largely out of the public eye during Britney's conservatorship battle, fostering the public impression that Jamie Spears orchestrated the whole situation, and she either was forced to go along with it, or didn't really understand the details. Britney addressed that in her caption, too.
"So take your whole 'I have NO IDEA what's going on' attitude and go fuck yourself," she wrote. "You know exactly what you did… My dad is not smart enough to ever think of a conservatorship… but tonight I will smile knowing I have a new life ahead of me!"
Britney also posted some photos of her Halloween costume, and in the caption, talked about learning how to play again after her childhood was taken away from her.
"I'm saying in a crazy world like we have today that it's pretty important to stay safe !!! Like we did for Covid y'all !!!! But still have fun … I mean duh !!! It's been 13 years for me so I'm a little rusty !!!!" she wrote. "Ma and dad can I drive my car now 😒 😜 ??? JUST KIDDING … but seriously, can I play now ????"
Britney's father, Jamie Spears, recently filed to terminate her conservatorship completely, with no conditions.
"Through the conservatorship, Britney has been able to return to a path towards stability in all of these phases of her life," his lawyer said in court. "The mission has been successful and it is now time for Britney to re-take control of her life."