Judge Denies Yet Another Request To Remove Britney's Dad From Conservatorship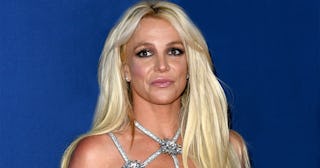 Jon Kopaloff/FilmMagic/Getty
A judge denied Britney Spears' 2020 request to have her father removed from her conservatorship, but there still may be hope for her current battle to end the conservatorship
Britney Spears has been dealt a new blow in her long battle against her conservatorship. Just a week after the pop star appeared in court and gave a wrenching, emotional testimony about the abuse she's suffered under the conservatorship, new court documents that were just filed show a judge has denied a request from last year to remove her father, Jamie Spears, as her sole conservator.
This motion was filed back in November, and asked a judge to install Bessemer Trust, a group of lawyers, into the position to control Britney's finances, medical decisions, and more. Since 2008, he father has been in that role, aside from a brief period in 2019 when he stepped down due to his own health problems. The judge did approve Bessemer Trust being added to the conservatorship, but they will now act as co-conservators alongside Jamie Spears. The judge denied the request to make Bessemer Trust the sole conservator, but did not rule out future petitions to remove Jamie Spears from the role.
The new court filing also states that the court finds Britney "substantially unable to manage his or her financial resources or to resist fraud or undue influence." This has been a major question, as fans question why the court finds Britney too unstable to manage her own life and finances, yet stable enough to work a rigorous performance schedule that earns millions of dollars her family controls her access to.
This new decision stems from the November 2020 court hearing that made headlines because Britney told the judge she was "afraid" of her father, and she publicly stated that she refused to perform again as long as he remained her conservator. Jamie Spears has said in recent interviews that although he remains his daughter's conservator, she's cut off contact with him and they haven't spoken personally in many years.
"After I've lied and told the whole world I'm OK and I'm happy, it's a lie," Britney said during her emotional testimony last week. "I thought just maybe I said that enough. Because I've been in denial. I've been in shock. I am traumatized. You know, fake it till you make it. But now I'm telling you the truth, OK? I'm not happy. I can't sleep. I'm so angry. It's insane. And I'm depressed. I cry every day."
This week's decision was reportedly not influenced by Britney's more recent testimony, though it's worth noting that the judge signed the paperwork on June 30 — after Britney made her emotional public plea for freedom. The judge who denied this request can't take any action based on Britney's statement in court last week, because the singer still hasn't filed an official petition asking for her conservatorship to end.