Britney Fans Want An Apology From Justin Timberlake
by Erica Gerald Mason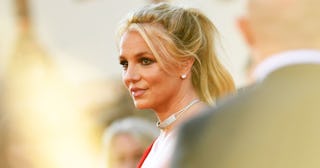 VALERIE MACON/AFP/Getty
The documentary has caused fans to look at Britney in a new light
Ah, the early 2000s – were we ever that young? Finding Nemo, the rise of Chipotle, the popularity of Victoria's Secret Love Spell. And the tabloid frenzy surrounding Britney Spears.
The Feb. 5 premiere of Framing Britney Spears prompted "We are sorry Britney" to become a trending phrase on Twitter. The New York Times Presents documentary, part of FX's New York Times Presents series, revisits the tabloid obsession with the pop star's personal battles, as well as her continuing legal battle to recover control over her finances.
Fans saw the episode and immediately took to Twitter to discuss Britney's treatment by the press, notably Diane Sawyer – and also by her former boyfriend, Justin Timberlake.
The documentary covers a 2003 interview between Britney and Diane Sawyer. In the interview, Sawyer asked the then-22-year-old Spears about her recent breakup with Justin Timberlake. Though Spears had been silent about the parting, Timberlake had humiliated her in the press and made the video for 'Cry Me A River' (complete with Britney lookalike) insinuating she cheated on him. Sawyer asked Spears, "You broke his heart, you did something that caused him so much pain, so much suffering. What did you do?"
Spears gave a diplomatic answer. "I think everyone has a side of their story to make them feel a certain way… and I'm not technically saying he's wrong but I'm not technically saying he's right either," she said.
The pop star also told Sawyer she felt "exploited" by a radio interview where Timberlake jokingly said the couple slept together.
Sawyer also asked Spears about a comment from the then-first lady of Maryland, who'd said she would shoot the pop star if presented with the opportunity. Spears seems noticeably horrified by the remark, while Sawyer appeared to defend the sentiment: "It's because of the example for kids and how hard it is to be a parent."
"Diane Sawyer defending the woman who wanted to MURDER Britney Spears just because Justin Timberlake said she cheated on him. #FramingBritneySpears," one Twitter user wrote.
Fans took to Twitter to show their support for Spears.
"Can't stop thinking about how Justin Timberlake got to skate by without injuring his reputation while Janet Jackson and Britney Spears got publicly destroyed after professional (Janet) and romantic (Britney) entanglements with him. Misogyny, man."
Britney fans weren't shy about expressing their frustration with Justin. "Raise your hand if you think Justin Timberlake owes his career (and an apology) to Britney Spears. #FreeBritney #FramingBritneySpears."
One Timberlake fan saw the singer in a new light. "Currently watching framing Britney Spears to see just how terrible Justin was."
"Justin Timberlake launched his career by slut-shaming Britney Spears," another user wrote.
Timberlake has not commented publicly about the matter; Britney has said she holds no ill will toward her former boyfriend.
This article was originally published on