Celebrities Are Rallying Around Britney Spears And The #FreeBritney Movement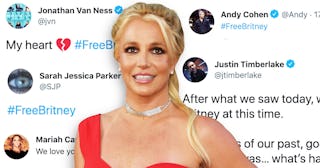 Jon Kopaloff/Getty and Twitter
Celebrities from Mariah Carey to Justin Timberlake are sending their support to Britney Spears and #FreeBritney movement
This week, Britney Spears made a rare court appearance where she gave a horrifying and heartbreaking statement detailing the abuse she's suffered under her controversial, 13-year conservatorship. Spears has asked for her conservatorship to finally end. And with her testimony came a new wave of support for the pop star from fans who read, listened, and watched in horror as she finally opened up about what it's been like to live under a court-order that gives her father control of her life and finances. Amid the social media support was plenty from celebrities, who posted their own well-wishes and love for Britney.
There were plenty who showed their solidarity by simply sharing the #FreeBirtney hashtag, which has become a rallying cry for a growing movement of concerned fans who have been calling for a deeper look into Spears' unique legal situation.
But many stars shared deeper, more personal messages about their love of Spears, or friendship they've formed with her over the years of being in the same spotlight. Mariah Carey, another queen of pop music, sent her love and support.
So did Jameela Jamil, who made a reference to mentions of Spears in The Good Place.
And Rosie O'Donnell, who had Spears on her talk show as a frequent guest, shared clips of interviews the pop star has given over the years, pointedly writing, "Listen to the woman."
Many other celebs wrote heartfelt messages to show their support for Spears, whose music has been a major joy in all our lives.
Selling Sunset's Chrishell Stause shared a video of Spears' supporters outside the courthouse, making sure the singer knew she wasn't alone in there.
Still more celebs reacted to what they were hearing as Spears gave her testimony. Her statements about being forced to keep an IUD inserted so she couldn't get pregnant were especially horrifying to people listening all over the world, including celebrities.
That included Spears' ex, Justin Timberlake.
And Keke Palmer, who reacted to Spears' statement with the same joy (and derision for her conservators) we all felt at witnessing the singer finding her power.
The law says that a court can order the end of Spears' conservatorship if it finds it's no longer needed. It's pretty clear from Spears' statement that this conservatorship is not needed (and it never was). We can only hope the legal system finally works the way it's supposed to and Britney finds the peace, happiness, and freedom she deserves.