Britney Spears Files To Have Her Dad Removed As Her Conservator
by Christina Marfice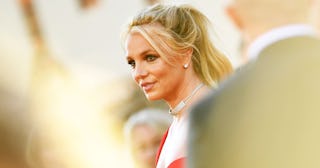 VALERIE MACON/Getty Images
Britney Spears has filed papers asking a judge to permanently remove her father as her co-conservator, leaving only Bessemer Trust Company in charge of her estate
The ongoing battle over Britney Spears' conservatorship continues. As fans continue to worry, and recent court documents revealed that the legendary singer may never perform again, the latest update shows that the battle has entered Brit's own family. According to recent court filings, she's seeking to have her father, Jamie Spears, permanently removed as co-conservator of her life and trust.
Britney's attorney, Sam Ingham, filed new documents on Tuesday, explaining why, after he's spent 12 years acting as her conservator, she wants her dad out of the job for good.
According to the documents, Jamie consented last month to working as a co-conservator alongside the Bessemer Trust Company. However, after Britney's business manager, Tristar Sports and Entertainment Group, resigned suddenly without warning, Jamie hired a replacement without consulting Britney or informing her of the new manager's contract details or fees, the documents allege.
"The October 28 letter is a blatant attempt by JAMES to retain full functional control of her assets, books and records in the face of BRITNEY'S objections, TRISTAR's resignation and the appointment of BESSEMER TRUST," court documents read. "His simple litigation strategy is to introduce a new gatekeeper who admittedly has a major working relationship with his legal team."
Britney's lawyer wrote that, "It is now obvious that any effort to create a viable working relationship between and among BRITNEY, BESSEMER TRUST and JAMES would be doomed to failure even without the added stress of litigating BRITNEY'S objections to the Account."
In other words, Britney wants the Bessemer Trust Company to be her conservator and retain control over her estate. And because she doesn't think her dad can work with them after the whole shady business manager situation, she wants him off the job.
The Spears family has a court hearing coming up on Nov. 10, where they'll reportedly discuss this request.
Britney's father has served as at least co-conservator of her life since her public breakdown in 2008. There have been times when he's temporarily stepped down from his duties, like in September of 2019, when he took a break due to "personal health reasons" and an alleged altercation with Britney's 15-year-old son, Preston. At that time, Britney's care manager, Jodi Montgomery, stepped into the role, and the singer filed papers saying that she "strongly opposed to having [Jamie] return as the conservator of her person."
No matter how this ends up playing out, we sincerely hope that the resolution is what's truly best for Britney.