Britney Spears Says Conservators Wouldn't Let Her Get Her IUD Removed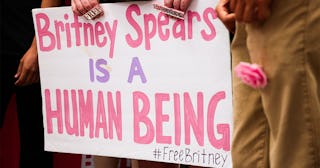 Rich Fury/Getty
Britney Spears made a rare public statement about her conservatorship, speaking out about reproductive abuse she's suffered, and saying those involved "should be in jail"
Years of legal battles surrounding Britney Spears' controversial conservatorship finally came to a head on Wednesday, when the pop star gave a rare and impassioned public statement to a judge in Los Angeles. Since 2008, when Britney had a public mental health crisis, control over her finances and life have been granted by the courts to her father and a handful of lawyers. Now, she has officially asked the court to end that arrangement, and revealed explosive details about how she's been treated over the past 13 years.
In her statement to the court, Spears revealed that, despite her happy and dancing persona on social media, she isn't OK.
"After I've lied and told the whole world I'm OK and I'm happy, it's a lie," she said. "I thought just maybe I said that enough. Because I've been in denial. I've been in shock. I am traumatized. You know, fake it till you make it. But now I'm telling you the truth, OK? I'm not happy. I can't sleep. I'm so angry. It's insane. And I'm depressed. I cry every day."
Probably the most jaw-dropping moment of her testimony came when she revealed that she wants to get married and have another baby, but that she has an IUD that her conservators won't allow her to have removed.
"I have an IUD in my body right now that won't let me have a baby and my conservators won't let me go to the doctor to take it out," Spears said, adding that she wants to marry her longtime boyfriend, Sam Asghari, but her conservators haven't allowed that, either. For anyone who's wondering, taking away a woman's choice about her own reproductive health is abuse.
Spears also claimed that when she refused to perform in Las Vegas, she was forced to take high doses of lithium that made her feel drunk all the time.
"He took me off my normal meds I've been on for five years," she said. "I couldn't even have a conversation with my mom or dad really about anything. There were six different nurses in my home, and they wouldn't let me get in my car to go anywhere for a month."
Spears bravely described her experience of having no control over her sexual health or reproductive rights, and being faced with drugs as a consequence if she chose not to work. She described being forced to work without access to her own credit cards, cash, phone, or passport, telling the judge, "The only similar thing to this is called sex trafficking."
Spears made the argument that because she's continued to work and pay the salaries of everyone who's controlled her life for over a decade, the conservatorship is clearly not needed.
"I need your help," she told the judge. "Ma'am, my dad and anyone involved in this conservatorship and my management who played a key role in punishing me — ma'am, they should be in jail."
Spears ended her statement with a request to end the conservatorship, saying she wasn't even aware until recently that she could ask for it to be ended, and apologizing to the judge for her "ignorance."
"I truly believe this conservatorship is abusive," said Spears. "My request is to end the conservatorship without being evaluated like before."
Spears' father, Jamie Spears, gave a brief statement through his attorney, saying he was "sorry to see his daughter suffering and in so much pain."
Spears' testimony sparked a fresh wave of public support for the pop star, as fans took to social media to react to the horrifying things she shared.
Even a number celebrities spoke out in support of Spears.
Including the singer's ex, Justin Timberlake, who spoke his strong support for her (and all women's) reproductive rights.
It's not clear what's next for Spears, but the law says a conservatorship can be terminated if a court determines that it's no longer necessary. Now it's just up to the legal system to make this right.