Britney Spears Posts On Instagram For The First Time Since Her Court Appearance
by Christina Marfice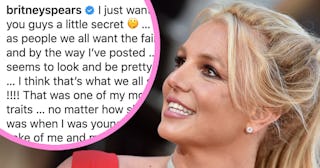 Britney Spears Instagram and Axelle/Bauer-Griffin/FilmMagic/Getty
In a heartbreaking Instagram post, Britney Spears reiterated to fans that her life is not "perfect" or a "fairy tale"
On Wednesday, Britney spears appeared before a Los Angeles probate judge and gave a rare and explosive public statement, detailing the abuse she's suffered under her 13-year conservatorship and officially asking the arrangement to end. Since then, she's been the subject of a whirlwind of media coverage. Now, for the first time since appearing in court, she's addressed her fans — on her Instagram, where many have spent years dissecting her photos and videos and wondering if she's actually OK.
Spears returned to the platform after several days without posting with a photo of a child and the Albert Einstein quote, "If you want your children to be intelligent, read them fairy tales. If you want them to be more intelligent, read them more fairy tales."
She accompanied the post with a lengthy statement, writing, "I just want to tell you guys a little secret… I believe as people we all want the fairy tale life and by the way I've posted … my life seems to look and be pretty amazing … I think that's what we all strive for !!!!"
Spears continued, "That was one of my mother's best traits … no matter how shitty a day was when I was younger … for the sake of me and my siblings she always pretended like everything was ok."
She then addressed her testimony about the conservatorship, and reminded her fans that although she's made her life appear perfect on social media, it's far from it. Spears is known for posting vacation and dance videos on Instagram, usually with extremely cheerful captions. But now she's getting real about her life behind that facade.
"I'm bringing this to peoples attention because I don't want people to think my life is perfect because IT'S DEFINITELY NOT AT ALL," Spears wrote. "and if you have read anything about me in the news this week… you obviously really know now it's not !!!!"
This is the part where Spears' post gets heartbreaking. Despite everything we now know she's been through, she actually apologized to her fans for hiding her abuse and misery on social media.
"I apologize for pretending like I've been ok the past two years," she wrote. "I did it because of my pride and I was embarrassed to share what happened to me … but honestly who doesn't want to capture their Instagram in a fun light."
She went on to say that pretending everything was OK on Instagram actually helped her feel better, which is all any of her fans could want.
"I decided to post this quote today because by golly if you're going through hell … I feel like Instagram has helped me have a cool outlet to share my presence … existence … and to simply feel like I matter despite what I was going through," Spears wrote.
Unsurprisingly, the comments were filled with support for the singer.
The events of the past few days have directed a lot of attention toward Spears and her case. We can only hope, with the whole world now watching, the legal system finally does what's right and gives her the freedom she clearly deserves.