Britney Spears' Longtime Manager Larry Rudolph Resigns
by Valerie Williams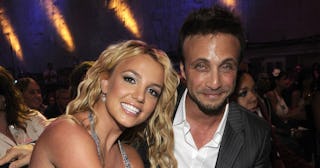 Kevin Mazur/WireImage/Getty
After 25 years as Britney Spears' manager, Larry Rudolph has resigned
The ongoing (and very public) fallout from Britney Spears' conservatorship battle continues as the performer's manager of 25 years has announced that he's resigning from the job.
In a letter provided to Deadline, Rudolph explains why he's walking away from managing Spears' career after working with her from the very beginning, back in the mid 1990s. "It has been over 2 1/2 years since Britney and I last communicated, at which time she informed me she wanted to take an indefinite work hiatus," he writes. "Earlier today, I became aware that Britney had been voicing her intention to officially retire."
Rudolph is sure to note that his role had nothing to do with her controversial conservatorship. "As you know, I have never been a part of the conservatorship nor its operations, so I am not privy to many of these details. I was originally hired at Britney's request to help manage and assist her with her career."
He continues, "As her manager, I believe it is in Britney's best interest for me to resign from her team as my professional services are no longer needed."
Though the pair are parting ways professionally, it sounds like Rudolph still intends to be in her life if that's what Spears wants. "I will always be incredibly proud of what we accomplished over our 25 years together. I wish Britney all the health and happiness in the world, and I'll be there for her if she ever needs me again, just as I always have been."
Rosy as this might sound, it's noteworthy that in her heartbreaking testimony last month, Spears specifically mentioned her "management" playing a role in the singer being forced to perform against her will.
"I need your help," she told the judge. "Ma'am, my dad and anyone involved in this conservatorship and my management who played a key role in punishing me — ma'am, they should be in jail."
She said, "I will be honest with you, I haven't been back to court in a long time because I don't think I was heard on any level when I came to court the last time. I brought four sheets of paper in my hands and wrote in length what I had been through the last four months before I came there. The people who did that to me should not be able to walk away so easily."
While she doesn't name Rudolph specifically, she refers to whoever forced her to tour as "management."
"My management said if I don't do this tour, I will have to find an attorney and by contract my own management could sue me if I didn't follow through with the tour," she told the judge. "He handed me a sheet of paper as I got off the stage in Vegas and said I had to sign it. It was very threatening and scary and with the conservatorship, I couldn't even get my own attorney. So out of fear, I went ahead and I did the tour."
It sounds like Spears and Rudolph parting ways is just one more step in her continuing quest to simply live her own life on her own terms. We can only hope that anyone she's keeping in her circle right now has her best interests at heart and is there to help her live the life she deserves.