Britney Spears' Lawyer Resigns Following Heartbreaking Testimony
by Valerie Williams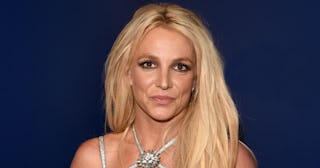 J. Merritt/Getty
Britney's lawyer Sam Ingham has been her court-appointed attorney since the start of her conservatorship
On the heels of Britney Spears' long-time manager Larry Rudolph announcing his resignation, the singer's lawyer is now doing the same. Samuel Ingham III has been Spears' court-appointed attorney since the start of her 2008 conservatorship according to documents obtained by PEOPLE. Ingham and his firm Loeb & Loeb, LLP didn't provide any explanation for why they want to cease their relationship with Spears.
In documents given to the court, Ingham asks that he cease representing Spears "upon the appointment of new court-appointed counsel." During Spears' explosive testimony last month, she made clear that she didn't know she could petition to end her conservatorship, an arrangement she called "abusive" during her testimony. "I want changes, I deserve changes. I was told I have to be sat down and evaluated again," she said, addressing the judge. "Ma'am, I didn't know I could petition the conservatorship to end. I honestly didn't know that."
"Honestly, I don't think I owe anyone to be evaluated," she said. "I've done more than enough."
During her testimony, Spears refers to Ingham by name. "My lawyer, Sam, has been very scared for me to go forward because he's saying if I speak up, I'm being overworked in that facility of that rehab place. He told me I should keep it to myself," she says, speaking about the rehab center she spent time in years ago.
"I would personally like to — actually, I've grown with a personal relationship with Sam, my lawyer, I've been talking to him like three times a week now, we've kind of built a relationship but I haven't really had the opportunity by my own self to actually handpick my own lawyer by myself," she stated. "And I would like to be able to do that."
Earlier this week, news broke that Rudolph was leaving his role as Britney's manager, citing her plans to "retire." In a letter sharing his intentions, he wrote: "Earlier today, I became aware that Britney had been voicing her intention to officially retire," he said. "And as her manager, I believe it is in Britney's best interest for me to resign from her team as my professional services are no longer needed."
According to sources as reported by Vanity Fair, Ingham was "extremely upset" at Spears' testimony where she claimed she didn't know she could file to end her conservatorship. Insiders claimed Ingham had informed her of her options, one of them being requesting an end to the conservatorship, but maintains that she only asked about having her father removed as conservator.
During her testimony, Spears mentioned being more or less forced to tour in 2018 saying she was told "my own management could sue me if I didn't follow through with the tour."
"I just want my life back…It is my wish and dream for all of this to end…I truly believe this conservatorship is abusive…I want to end the conservatorship without being evaluated," she told the judge. "I want to petition basically to end the conservatorship."