Britney Reportedly Doesn't Want Mental Health Eval Because Doctors 'Failed' Her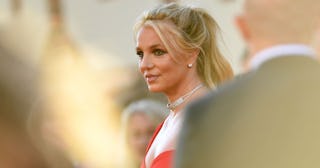 VALERIE MACON/AFP/Getty
Spears doesn't want to be evaluated by doctors about her mental health
Britney Spears has continued to make headlines after fighting for her conservatorship to end, offering explosive testimony about her treatment over the years. One step that needs to be taken according to the courts is a mental health evaluation, one Spears doesn't want to go through with because of her lack of trust in the system.
In court, Spears asked specifically for her conservatorship to end without an evaluation. "She doesn't have much trust for the doctors that she has worked with so far," a source told PEOPLE exclusively. "She feels like they have failed her." To date, Spears doesn't have a mental health diagnosis that's been revealed to the public and her medical records are sealed. This admission may be why her lawyer hasn't filed another motion in court to end the conservatorship for good.
After the hearing, Spears' personal conservator Jodi Montgomery and her father, Jamie Spears butted heads publicly about her claims and who is to blame, including testimony that she was forced to be on birth control and perform against her will.
Spears blamed Montgomery for his daughter's "suffering," and her attorney responded quickly in a court filing, saying: "Practically speaking, since everything costs money, no expenditures can happen without going through Mr. Spears."
The singer has been unable to make major personal or financial decisions without her father's approval since 2008 (then Montgomery in 2019, who was appointed while Jamie Spears dealt with health issues). Britney spoke out against her conservatorship for the first time in June 2021, saying, "The main reason why I'm here is because I want to end the conservatorship without being evaluated. I just want my life back. It's been 13 years, and it's enough."
Spears has sought mental health treatment in the past after her father's health issues. But the swirl around her continued to be too much, and she commented publicly asking for privacy. She took to Instagram in April 2019 to slam the "rumors, death threats to my family and my team, and just so many things crazy things being said" while she was in treatment. "Everything that's happening is just making it harder for me," she wrote.
All parties will appear in court on July 14 for a formal hearing requested by Spears' father to review her court testimony. Regardless of what happens, it's absolutely heartbreaking that she doesn't feel safe enough to trust doctors evaluating her for a possible mental health diagnosis and subsequent treatment.
"Britney is following everything closely," a Spears family source told PEOPLE. "She is hopeful that there will be huge changes."