Fans Are Supporting Britney Spears After She Checked Into A Mental Health Facility
by Christina Marfice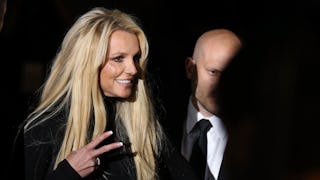 Image via Gabe Ginsberg/FilmMagic
In 2019, Britney Spears' mental health is no longer a punchline
We still have work to do when it comes to getting rid of the stigmas that surround open conversations about mental health. But we don't need to look any further than Britney Spears to see how far we've come in the last decade.
According to reports, Spears checked into a mental health facility around a week ago, and is scheduled to stay for 30 days total. Reports say she needed some extra support amid her father's failing health, and kudos to her for knowing when she needed help and not being afraid to get it.
Spears has been a little MIA lately, and just before entering treatment, she posted to Instagram for the first time in several months, writing that she needed some "me time."
A source told People magazine, "Her dad being sick has taken a toll on her. He nearly died and actually had another surgery a few weeks ago. He's not doing well. They're so close and it has been a lot. There is nothing dramatic going on with her — she just realized she needs to make sure to take time to care for herself."
Amen to that. We should all take care of ourselves as best we can, and it sounds like Spears is doing just that.
But what might be the most heartwarming thing about this story is the way Spears' fans have reacted online. They've showered her with support and love, and applauded her decision to get the help she needed.
Brit's fans are seriously some of the most supportive people we've ever seen on the internet, which we all know can be a pretty awful, brutal place. They have nothing but love and support for Spears right now and it's restoring just a little bit of hope in humanity and the future.
https://twitter.com/jetpack/status/1113543890437529600
Some are even sharing their own struggles with a loved one's illness, showing solidarity for Spears as her dad fights to heal.
This is in very, very stark contrast to 2007, when Spears suffered a very public mental health crisis, and she became the butt of joke after joke for it. Truly, it was one of the darkest moments in pop culture history, and the fact that Spears has been so resilient after surviving that is nothing short of inspiring.
Britney Spears has been in the public eye since she was literally a child, and the pressure that comes with that kind of life is no joke. The fact that she needed help then and got nothing but derision is just disgusting. The response she's receiving now doesn't erase how people treated her then, but it does show the massive shift that's happened in our conversations about mental health since then. It's no longer something to mock a person about — in many cases now, people are applauded for opening up and for seeking help when they need it.
That's not to say the conversation about mental health stigma is over. It can't be ignored that Spears has a remarkable amount of privilege, and for many people, admitting to a mental health crisis and checking into a psychiatric facility for help is completely out of reach, because of the cost of treatment, lack of time off or employers who don't understand mental health.
The best way to reduce the stigma even further is to keep having conversations like this one. And when celebrities like Britney Spears, Ariana Grande and Demi Lovato are open about their mental health, it makes it more acceptable for the rest of us to be, too.