Britney Posts Scathing Note To Those Who 'Never Showed Up' For Her
by Erica Gerald Mason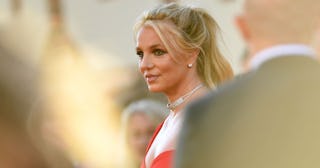 VALERIE MACON/AFP/Getty
Britney Spears has found her voice, y'all
Following a tumultuous series of hearings in the California courts system, Britney Spears has no time for those people closest to her who "never showed up" for her but who are now, according to the pop star, trying to "save face" with "righteous" displays of public support.
Spears had a win earlier this week when a court this week ruled she could hire her own attorney to challenge the conservatorship she's been under since 2008. On Friday, the singer shared a post on Instagram that read, "Never forget who ignored you when you needed them and who helped you before you even had to ask."
For context, earlier this week, the singer told the judge her father should be charged with "conservatorship abuse" and that her family "should be in jail." Spears' personal conservator (appointed by the court) filed papers alleging that the singer's father had attempted to maintain control over the singer's fortune by spending $2 million of her money on legal fees.
What's more, in a previous hearing, Spears alleged that she was forbidden from removing an IUD and that she was prescribed lithium against her will — and sent to a mental health facility if she disobeyed her father's orders.
In a blistering caption, the singer wrote, "There's nothing worse than when the people closest to you who never showed up for you post things in regard to your situation whatever it may be and speak righteously for support … there's nothing worse than that !!!!"
Fans are loving how Spears seems to be taking the reins in her life.
"How dare the people you love the most say anything at all … did they even put a hand out to even lift me up at the TIME !!!??? How dare you make it public that NOW you CARE … did you put your hand out when I was drowning ????" Spears wrote. "Again … NO … so if you're reading this and you know who you are … and you actually have the nerve to say anything about my situation just to save face for yourself publicly !!!"
Other fans wanted Spears to know that they support her, no matter what.
While Spears didn't name the person in her caption, fans suspect the singer's remarks are directed at her sister, Jamie Lynn Spears.
Another fan likened Spears' sister to a snake.
"If you're gonna post something …. Please stop with the righteous approach when you're so far from righteous it's not even funny," Britney continued in the scathing Instagram post, adding three middle-finger emoji, "and have a good day !!!!!"
Britney's fans felt this rant was a long time coming.
Britney then ended the caption with a shoutout to fans who live with duplicitous people: "PS if you're reading this today and you can relate …. I'm sorry because I know what it's like … and I send you my love 💋💋💋 !!!!"