Britney Spears Hops On Viral Trend And Hilariously Dances To 'Toxic'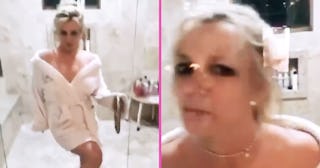 Britney Spears/Instagram
It's impossible not to LOL at Britney Spears being silly AF to her own song
There are two certainties for millennial moms: One, we all know every lyric and beat to Britney Spears' 2003 hit, "Toxic," and we are all more familiar with TikTok and Instagram trends than we probably should be. The combination of those two things is exactly the content we need right now.
In honor of her boyfriend Sam Asghari's 27th birthday Thursday, Spears shared two hilarious video clips on Instagram, in which the couple separately attempt to do the same trendy, playful dance to the iconic song while in literal bathrobes inside her shower.
"Happy birthday to the man that always makes me laugh 😂🎉🎈!!!!!" she captioned her post. "Who did it better ???? @samasghari."
Spears' Instagram account is usually at the center of #FreeBritney fans' discussions, with many speculating that she seems controlled or that her posts have to be approved by a communications team put in place by her father, Jamie.
So honestly? It's nice to have a very clearly genuine, happy, light-hearted, and funny moment to see on her account that seems 100 percent all her.
She recently posted a photo of her two sons, 15-year-old Sean Preston and 14-year-old Jayden James, enjoying a sunset. It's the first photo she's posted of her kids in a long time, because she likes to keep them out of the public eye (understandable for obvious reasons). It's crazy to see the boys as teenagers just towering over their super proud mom.
"I'm extremely lucky because my two babies are such gentleman and so kind that I must have done something right," she wrote. "I haven't posted pictures of them for some time cause they're at the age where they want to express their own identities and I totally get it …. But I went out of my way to make this cool edit… and guess what …. They're finally letting me post it !!! Now I don't feel left out anymore."
Ever since Hulu released the "Framing Britney Spears" documentary in early February, it seems like everyone who has seen it (which is, basically, just… everyone) has made it a mission to show care, concern, and empathy to Britney after the doc highlighted just how awful the media treated her throughout her entire career. She's been under a strict conservatorship led by her dad for almost 13 years, which she's admitted several times has led to deep unhappiness and removed any desire she has to perform again.
Speaking of the birthday boy Asghari, he finally snapped post-documentary after a couple of years of silence, calling his girlfriend's dad "a total dick."
With how much drama these two presumably have to deal with on a daily basis, it's nice to see how much they clearly love one another and that they're finding ways to have fun no matter what.
This article was originally published on