Britney Spears Just Shared That She's Writing A Murder Novel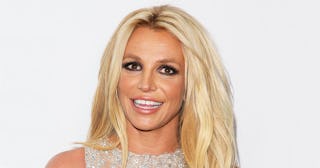 JB Lacroix/WireImage/Getty
Britney Spears explained the plot of the murder mystery novel she says she's writing, and some of the details might sound a little bit familiar to her fans
As she's been fighting for freedom from her conservatorship, Britney Spears has been on an indefinite hiatus from any work since 2019. In fact, last year, she told a judge via her lawyer that she refused to work again unless her father, Jamie, was removed from his role in her conservatorship. Now, just weeks after a judge ruled to suspend Jamie and move toward ending the conservatorship altogether, Spears has already announced a new creative project.
In a post on Instagram, the pop star shared that she's writing a book. She says it's a sort of murder mystery novel, but as she explained the plot, the inspiration for the story seemed, well, pretty clear.
"I'm writing a book about a girl who was murdered … yet her ghost gets stuck in limbo because of trauma and pain and she doesn't know how to cross over to the world she used to know!!!!" Spears wrote. "After being stuck in limbo for three years, she is a ghost who thrives off of her reflection in the mirror for existence. She has no one she can trust but something happens and she figures out how to cross over to the world where her family is!!!!"
Spears continued, "Coming out of the limbo she has a decision to make… Greet the same people who murdered her or create a new life!!!! She no longer needs her mirror. She found a portal by citing certain prayers constantly that give her the insight and gift to not be scared anymore and come out of limbo… But what I will leave to the IMAGINATION is what she does when she crosses over… besides learning to write her name again!!!!"
Spears didn't come right out and say that the main character's "limbo" is inspired by her 13 years spent trapped in her conservatorship, but it sounds a little too familiar to be a coincidence. In the bombshell testimony she gave back in June, she described feeling trapped and abused, and implicated her entire family in upholding the conservatorship, saying, "I would like to sue my family, to be honest with you." She's also posted a few shady Instagram messages that seem directed at her family.
Spears hasn't announced a publishing deal or anything that confirms her upcoming book, but if you ask us, it sounds like a solid therapeutic outlet for her (and something we would definitely read if it ever got published).